It's been a three-year round trip for junior resource traders...
Right now, commodities are in full "bust mode." The benchmark CRB index – which tracks oil, corn, gold, nickel, and 15 other commodities – is down 27% from its 2011 peak.
Today, we're looking at how that bust is playing out in the junior resource space... we're looking at the brutal downtrend in the Toronto Venture Exchange Index...
The Venture is the "Dow Jones of junior resources." Juniors are the "bloodhounds" of the resource industry. They scour the world, looking for energy and mineral deposits. It's a "hit or miss" business, which means these stocks can soar 300%, 500%, or even 1,000% in one year... and lose 50% of their value the next.
Well... they just crossed the "lose 50%" mark for the latest bust. As you can see from the chart below, the Venture boomed in late 2010 and early 2011. It ran from 1,400 to 2,400 (a 70% gain) in eight months. But as folks grew wary of riskier assets, they dumped resource shares.
Over the last 18 months, they've dumped enough of them to make a "round trip" run down to the 1,200 level. That's a 50% drop from the peak... and a low the Venture hasn't seen since 2009.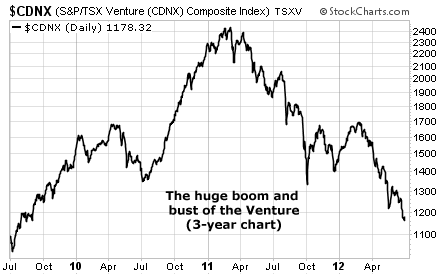 But the latest breakdown in the junior resource sector tells us that despite some outstanding values out there, the sector hasn't reached a firm bottom.
We have no doubt this bust will be followed by another boom. But right now, the "juniors" are still in a downtrend.
Good trading,
Amber Lee Mason and Brian Hunt