We weren't looking for a major rally, just an oversold, early-summertime bounce that would take the S&P 500 up to about 1,375 or so.
We got as high as 1,363 on Tuesday. Now, that same indicator says it's time to sell. Take a look...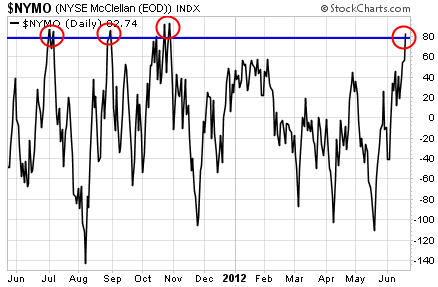 The McClellan Oscillator is a momentum indicator that illustrates overbought and oversold conditions. At 80, the blue line on the chart above shows when the stock market has reached "extreme" overbought levels. The red circles signal each of the four times stocks have hit this level over the past year.
Here's how the S&P 500 performed after each signal...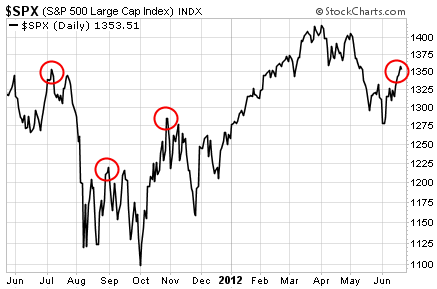 Stocks fell immediately following each McClellan Oscillator sell signal. Then they bounced hard and formed a lower high before dropping to a significantly lower level. The S&P 500 lost between 10% and 17% within just a few weeks following each of the three previous sell signals. A similar decline this time around would put a bottom on the S&P 500 somewhere between 1,225 and 1,130.
Ouch. That's low.
The S&P 500 is up 100 points over the past two weeks. It's up 5% from when the McClellan Oscillator flashed a buy signal. That's a terrific return in a short period of time. And now, it's time to lock in those gains and sell.
In fact, aggressive traders should be looking to sell short into any further strength.
Best regards and good trading,
Jeff Clark