If you're bullish on banks, you now have the trend in your favor...
About two months ago, Stansberry & Associates founder Porter Stansberry made
a compelling case to buy bank stocks
. Porter believes the constant bailouts and manipulation of interest rates is a big tailwind for banks like Citigroup, Deutsche Bank, and Bank of America.
Plus, many banks are trading for less than their book values... so any bit of improving sentiment toward this sector (which most people hate), could produce huge gains in bank stocks over the next year or two...
I know you're probably sick of hearing about banks. And you might think the government is out to crush bank profits. It's the opposite, actually. Banks are in bed with the government. Both bankers and politicians benefit from bailouts and inflation. Despite what you hear from the mainstream press, the government desperately wants big banks to thrive.
In a perfect symbol of this union, JPMorgan chief Jamie Dimon wore cufflinks with the U.S. presidential seal on them to his Congressional "interrogation" last week. Most of these "interrogators" are bought and paid for with Wall Street money.
That's why last week's trading is interesting. Many bank stocks fell more than 30% from their March highs to their recent lows. It's been a big, short-term wipeout. But many bank stocks, like bellwether Bank of America, have dug out bottoms in the past few weeks... and have even climbed to new short-term highs: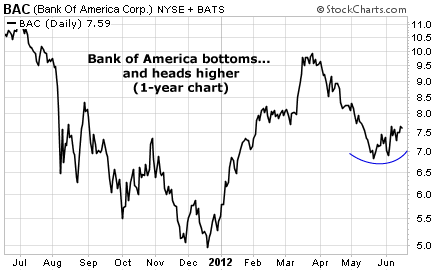 As I mentioned, most investors still hate the banking sector. That's why it's very cheap. Many bank stocks are trading below their book value. Book value is a traditional valuation metric for bank stocks. It's a simple way of measuring how expensive a bank is compared to the assets on its balance sheet.
JPMorgan (JPM), Citigroup (C), Bank of America (BAC), and PNC Financial (PNC) are a few of the biggest U.S. banks trading at less than book value. Ten years ago, these banks commonly traded above two times book value. Big Canadian banks (which don't have the same cloud hanging over their heads) currently trade above 1.8 times book value.
In summary, you might think the government is out to get the banks, but it's actually the opposite. These beaten-up stocks are trading for less than book value, and they are now sporting a bit of positive price action. That's why it's time to get long.
Good investing,
Larsen