Earlier this week, the Volatility Index (the VIX) popped above 27, the highest point this year.
The VIX serves as a sort of "fear gauge" for the stock market... The index measures the prices people are willing to pay for options that protect the value of their stock holdings. The higher the VIX, the more people will pay to insure their stocks... hence, the more scared they feel. And when investors and traders are scared, they also sell assets they deem risky... And as we know, when the herd is selling, bargains abound.
The chart below is a five-year chart of the S&P 500. Beneath that is a corresponding chart of the VIX for the same time period. As you can see... sharp rises in the VIX usually correspond with market bottoms...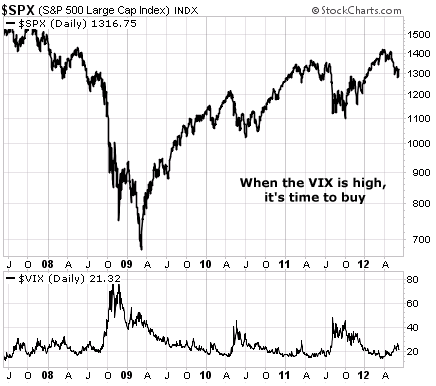 In September 2008, the market fell off a cliff. That's the month investment bank Lehman Brothers went bust. Investors were selling indiscriminately. The financial markets were panicked. The VIX, as you can see, quadrupled to 80.
We're contrarians at heart. So when the investing herd was giving up on the market, we sought out the best way for our subscribers to make huge gains... As we explained, rising volatility reflects increasing option premiums. So during periods of high volatility, you can make a fortune selling put options on high-quality stocks.
So about one month after the Lehman collapse... to take advantage of the carnage... we launched one of the most successful newsletters in history (on a track record basis) – Porter Stansberry's Put Strategy Report.
We knew it would be hard to sell this newsletter – investors were terrified by the market losses they'd just watched... and the idea of trading options makes many individual investors nervous even in the best of times. But we knew the few people who tried it would see some of the greatest returns in their investment careers. Here is what Porter wrote in the first issue of Put Strategy Report in October 2008 (emphasis added)...
The collapse in stocks this fall was historic in size. As I write this report, the Dow Jones Industrial Average is about to close with its worst weekly loss of all time, in percentage terms.
Most investors watching the carnage simply want to sell and never hear about stocks again...
But for those of us who understand how to value securities, there's simply never been a better time to buy stocks, not in 30 years and maybe not ever.
The panic in the markets leads to falling prices for securities – everyone knows this. What most people don't know, however, is that panic also leads to vastly higher prices on options. Investors buy put options as a form of insurance on the value of their stocks. But when investors are scared, they're willing to pay far higher premiums for put options. The insurance can get incredibly expensive.
This combination – incredibly cheap stock prices and incredibly high-risk premiums in the options market – combines to make a once-in-a-lifetime opportunity for smart investors. Right now, you can literally earn more than 50% on an annualized basis selling insurance on stocks that are trading near their liquidation value. You're selling insurance on a risk that doesn't exist.
You can imagine this strategy as selling hurricane insurance after the hurricane has already come. In the insurance market, you want to sell when people are scared. And right now, they're more scared than they've ever been. That should let us make about 50% a year without buying a single stock. – October 2008, Put Strategy Report
Remember, when someone buys a put option... he's buying the right (but not the obligation) to sell stock at a set price by an agreed-upon deadline. In other words, buying a put assures you that no matter how low a stock's price falls in the open market, you can still get at least that agreed-upon price (called the "strike price"). So rising volatility reflects investors' willingness to pay more in premium for that insurance.
And (for reasons we'll explain in a second)... we're happy to sell them that insurance... at a huge premium. Porter made Put Strategy Report subscribers close to 50% annualized gains doing just that...
This week, the market was scared... notably of a slowdown in China and a collapse in Europe. The S&P 500 has sold off 7% from its 2012 high in April. And the VIX has increased from around 15 then to above 27 earlier this week. (It fell back to about 22 on Friday). We're far from the extreme panic of late 2008, but selling puts still offers opportunities for big, safe gains.
There's one other trick to successfully selling puts. It's the reason we're happy to sell stock insurance to nervous investors.
You should only sell puts on stocks you want to own
at strike prices that represent good bargains on the shares
.
Porter calls selling puts on high-quality, blue-chip stocks "the best, most consistent trading strategy" he's ever used. And today, we see opportunity in blue-chip technology companies like Microsoft, Intel, and Cisco. These companies have more than $100 billion in combined cash. And they pay dividends between 2% and 3.3%.
They're among the safest and best companies in the world. And they've all sold off hard from their April highs. Right now, you can make double-digit returns selling puts on these companies... And there's virtually zero risk... because you are happy to own these shares at the price you've agreed to pay.
For example, in an issue of
DailyWealth Trader
this week, we showed you how to make 34% in three months selling puts on Intel. Take a look at the stock chart of the World Dominating maker of computer processor chips... It sold off from more than $29 a share in May to around $25 earlier this week.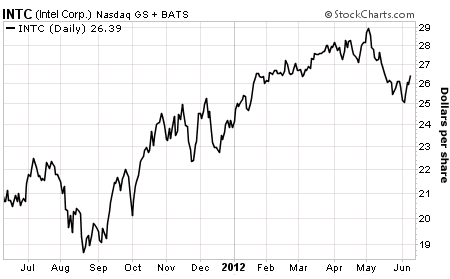 Here's what co-editors Amber Lee Mason and Brian Hunt wrote in DailyWealth Trader...
Take the September $25 puts, for example, which are trading for about $1.70. All you have to put up to make the trade is a 20% "good faith" deposit, called "margin." In this case, that's $5 per share. So the $1.70 premium is actually an instant 34% return on margin.
If Intel holds its level or rises higher by option expiration in September, sellers of that option will get to keep the $1.70 payout and walk away. Annualized, your return would be more than 100%.
If the stock ends up below $25, put sellers would end up buying the stock for a total cost of $23.30 ($25 minus $1.70). That's a 7% discount to today's price. And you'd be collecting Intel's growing dividend as well.
If Intel's stock goes up from here, you keep 100% of the premium and make a 34% return on margin in three months. If the stock goes down, you own shares in the world's No. 1 semiconductor company at a deeply discounted price... And you collect a huge dividend.
Income-generating strategies like the one above are a cornerstone of
DailyWealth Trader
. And we've created an exclusive video to show you the best ways to put them to work. It walks you step by step through our "greatest wealth secret." You can view it free by
clicking here
. (To sign up without watching a long promotional video,
click here
.)
Regards,
S&A Research