For more than two years, I've been writing about a massive Chinese growth trend...
It returned as much as 120% over that time.
Now, this trend is broken. It's time to get out.
In 2007, it surpassed Las Vegas as the largest gaming market based on revenue. Today, Macau generates five times more revenue than Las Vegas.
Over the past few years, Macau's growth numbers have been staggering.
In 2010, gambling revenue jumped to $23.5 billion. That was 70% higher than the previous year. In 2011, Macau's revenue surged again – to $34 billion. That's more than 40% higher than in 2010. Last month, though, Macau said gaming revenue only grew by 7.3%.
Some analysts are calling this weak monthly number an anomaly. I'm not so sure.
You see, the decline in May's growth rate was due to slower spending by VIP guests. These are high-net-worth individuals who spend a lot of money gambling. This has been the primary driver of revenue growth in Macau.
Slower spending could be the result of an overall slowdown in economic growth in China. If this is the case, VIP growth will likely contract further.
That's not a good sign for Las Vegas Sands (LVS) and Wynn Resorts (WYNN). These are the two main U.S. casino operators in Macau. Macau accounts for 52% of Las Vegas Sands' revenue and 72% of Wynn's.
In April, LVS opened its fourth casino in Macau. The cost was $4.4 billion. The new casino will have more than 500 gaming tables and 40 VIP rooms. LVS plans to build another resort not far from its new casino. It will have over 3,600 rooms.
Wynn is also opening up a new resort in Macau. The 6 million-square-foot project will cost roughly $4 billion. It will have over 500 gaming tables. The grand opening will take place in 2015.
This is a huge amount of supply coming to the market... and demand is slowing.
As you can see from the chart, these stocks have broken down. Both are down more than 16% since May 1...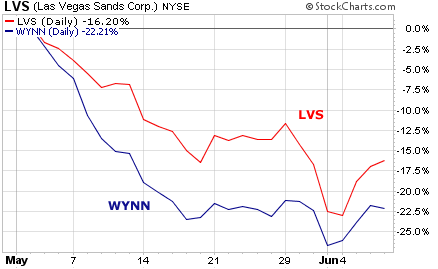 When I pointed out these stocks in the past (
here
and
here
, for example), their trends were intact. That's no longer true.
Also, these stocks are not attractive based on valuation. LVS and WYNN trade at 14 times next year's earnings. That's a 27% premium to the average S&P 500 company. This premium was understandable when Macau was growing 20%-plus. Now, it's growing at less than half the rate.
If the slowdown in Macau continues, LVS and WYNN could see at least a 15% drop in their stocks from current levels.
Longer term, this drop could be steeper based on the massive supply of gaming tables coming to the market over the next few years.
It was a big trend while it lasted. But it looks like it's breaking down. Steer clear.
Good investing,
Frank Curzio