The bottom is in for silver stocks...
It's been a roller-coaster year for the gray metal... and the companies that mine it. After surging more than 30% in January and February, silver reversed course and tumbled nearly to its 2011 lows, giving up all its gains.
But over the past few weeks, the picture has gotten brighter. And it could mean big gains for silver producers.
Starting in mid-May, silver's slide finally took a breather. The metal has since formed a brief series of "higher highs and higher lows" – the start of an uptrend. Take a look...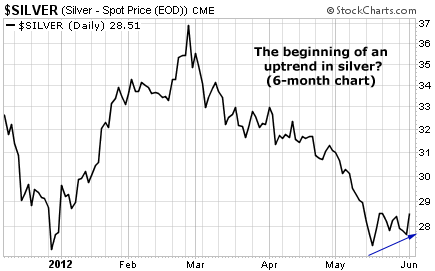 While it's too early to say for sure if this uptrend will hold, it's had a dramatic effect on silver stocks.
Early last month, our colleague Frank Curzio
pointed to three silver stocks he was watching
: Fortuna Silver, Silver Standard, and Endeavour Silver. These companies are low-cost producers. And as Frank pointed out, they're expected to increase silver production by more than 30% by 2013.
Each had lost between 20% and 40% in market value over the previous three months. They were trading at historically low valuations.
But as you can see in the chart below, Fortuna has already rallied sharply off its May bottom...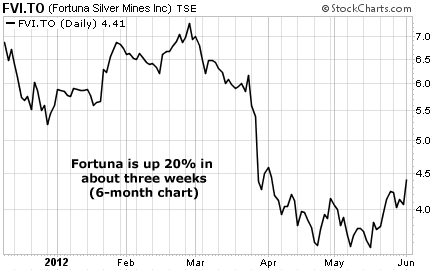 Silver Standard and Endeavour Silver hit sharper "V" bottoms in May, but their recent recoveries have been just as dramatic. Silver Standard has bounced 14%. Endeavour is up about 32%.
There's plenty of risk here if silver resumes its fall. But if silver can simply hold its current level, all three companies will likely show huge returns. (If silver hits the $100-an-ounce target Frank mentioned, these stocks will show quadruple-digit gains.)
Good trading,
Amber Lee Mason and Brian Hunt