Today, I'd like to show you the main reason why it's been so hard to make money in stocks over the last 10 years.
And it's not just because we had terrible bear markets in 2001 and 2008. No... something a lot more fundamental is at work. I'd guess not many of you have thought about this before (but maybe I'm wrong)...
Before we begin... my usual word of warning... I'm going to try to teach you something in the space below. I know... believe me, I know... that's likely a waste of both of our time. You'll either think I'm being condescending because I'm explaining something you already know... or I'll leave you even more confused and frustrated than you already were.
I realize there is really no way to teach anyone anything... not unless the other person is committed to learning... not unless they're ready to absorb something new... and not unless they trust you enough to listen. Or as I say: There is no teaching. There is only learning.
So... with these caveats in mind, I'd like to talk about secular bear markets. I want you to know what they are (and why we're in one) and then learn a few things about successfully investing in the midst of them.
What is a
secular bear stock market
? It's a pretty simple concept. A secular bear market in stocks is a period of time when the average "market multiple" declines substantially over a number of years – usually a 10- to 20-year period. During this time, stocks trade at progressively lower prices (as measured against earnings and/or book values).
They do so for a number of reasons, but mostly because the previous excess valuations must be lowered so the market can return to average valuations. In short, a secular bear market is the period of time when stocks go from being overvalued to undervalued. A secular bull market, on the other hand, is of course the period of time when stocks go from being undervalued to overvalued.
So... are we in the midst of a secular bull market or a secular bear market right now?
I don't want to start an argument with you. This isn't about whether you think it's a bull market or a bear market. This is a different question... This is whether or not the market's average multiple is increasing or decreasing. And we can answer this question definitively. It isn't a matter of opinion.
Since the U.S. stock market peaked in 2000, the market's "multiple" has experienced a sustained decline. That is, stocks have been trading at progressively lower multiples of their book values and earnings. I asked one of our best researchers, Brett Eversole, to make a chart showing the specifics of this phenomenon. Here it is...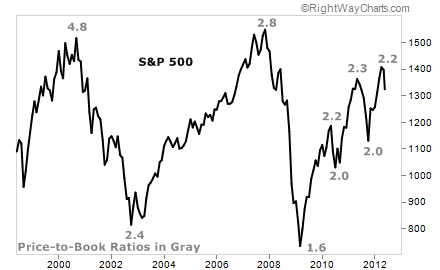 In this chart, we used the market's multiple to book value. We could have used its multiple of earnings. But the big hit corporate earnings took in 2008/2009 makes the chart more confusing. The price-to-book measure is more consistent.
What you see is that at nearly every peak in the stock market since 2000, the average multiple to book value is lower. Likewise, at the bottoms, the multiples are trending lower.
As I said, this is known as a "secular bear market." It's a market that takes a long time to work off the excess values that accumulated during the previous bull market. You won't be surprised to learn that really big bull markets always lead to really bad secular bear markets.
And since the secular bull market we had from roughly 1980 until 2000 lasted 20 years and led to the highest market multiples ever seen in the U.S. (five times book value), I'd expect a secular bear market to match it. That is, a secular bear market that lasts a long time (15-20 years) and leads to very low average multiples.
I can't guarantee that will happen... but any study of the long-term trends in the stock market will reveal this constant phenomenon. This is just basic reversion-to-the-mean kind of stuff... And it's difficult for any large, organic system – like the stock market – to avoid a reversion to the mean. You should plan on it. You should expect it. And you should adopt strategies that are suited to profit through it.
Keep this in mind... a secular bear market doesn't necessarily mean stocks will go down in nominal terms. But the real value of stock prices, on average, will likely go down substantially. That's because during a secular bear market, it takes higher and higher levels of earnings or larger and larger increases to book value to produce the same amount of stock market levels.
Here's an example... Back in 2000, technology companies were trading at 50 times earnings. Back then, if XYZ Technologies was producing $10 of earnings per share, you'd expect the stock to trade at $500 per share. Many stocks traded at these levels back then. Today, few tech stocks are trading at more than about 15 times earnings. Thus, you'd expect the stock price to be much, much lower. But it's probably not, because earnings grow over time.
Let's say XYZ Technologies has grown tremendously and is now earning $30 per share. It's grown the value of its business by an eye-popping 200% in 10 years. But the stock price, if it's now trading at 15 times earnings, would have fallen to $450 per share. That is, despite a decade of growth, the stock price would still show zero increase – a 10% decline, in fact.
And that's not even taking into account the silent 4%-6% per year impact of inflation. Start figuring these losses into your formulas, and you'll see a big real decline in the stock market over the last decade. I'd assume we have another five to 10 years of this market ahead of us, too...
How can you be successful as an investor during a secular bear market? It's not that difficult, actually. You just have to be focused on value. You can't afford to chase growth stocks at high multiples because the lower market multiple makes it harder and harder for these stocks to soar. On the other hand, income and value investing tend to perform best during secular bear markets because investors have more opportunities to buy stocks that are cheap and pay a great yield.
The ongoing decline in the market's average multiple also helps explain why it's so important right now to make sure most of the stocks you own pay good dividends and buy back shares. When companies are worth four or five times the amount of their book value, it makes sense to retain earnings and grow the book value. But when that book-value multiple is declining every year, it makes more sense to boost the share price by raising the dividend.
If you're with me so far, you've gotten 90% of the information you need to understand secular bear markets. But I'd like to show you one more part of these trends... I believe that secular bear markets are also correlated with periods of negative real interest rates. Lots of people have a hard time understanding what negative real interest rates are and what they mean... So if you get lost here, don't get discouraged.
Negative real interest rates are simply rates that don't pay you enough to cover the impact of inflation. If inflation is running at 3% or 4% a year but you're only being paid 1%-2% a year in interest, you've lost 1%-2% a year in purchasing power. That's a negative real rate of interest.
When interest rates on benchmark government bonds (like the U.S. 10-year Treasury bond) are negative, then the normal relationship between the values of stocks and bonds breaks down. And when it breaks down, it's bad for stock market prices. Let me show you...
Normally, the stock market's earnings yield is tightly correlated to the yield on government bonds. They're usually close to the same amount. So if government bonds are yielding 5%, you'd expect to see stocks trading at a price-to-earnings (P/E) ratio of 20 times earnings. (That's because a market P/E ratio of 20 is the same thing as an earnings yield of 5% – you just flip the ratio to make it E/P).
With the yield on 10-year government bonds now trading at less than 2%, you could argue that stocks should trade, on average, at a market earnings multiple of 50! Unfortunately, the entire relationship between bond yields and the stock market multiple breaks down during periods when the nominal yields on bonds are less than inflation.
Below, you can see the relationship between stocks and bonds, beginning in the late 1960s and continuing until today...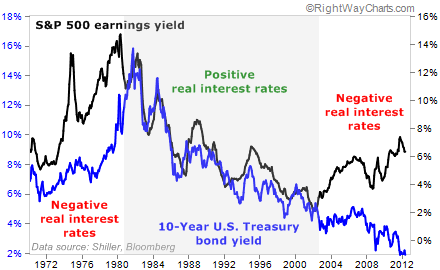 What's important to note is that we're in a period of
negative
real interest rates. As long as this continues, the market multiple is likely to continue to decline. That means it will be difficult to make money in stocks,
unless
they're bought at dirt-cheap prices (based on earnings and book value).
Keep these facts in mind when you go to buy a stock. Remember... in this kind of environment, it will be difficult to do well with expensive stocks. Work on learning to buy stocks only after they've fallen a bit – like after a 20% correction. Learn to do things like sell calls to generate more income. Learn to diversify your investments into higher-yielding stocks, like real-estate investment trusts (REITs) and master limited partnerships (MLPs).
During a secular bear market, investors will earn about 75% of their returns from income and only about 25% from capital gains. These are difficult markets... But if you understand how they work, you can still do well.
As for "selling calls," a bit of clarification is in order...
I know many readers refuse to learn about the options market. They see it as a big casino filled with nothing but risky bets. And the way the most people approach it, that's exactly what it is...
But here's what most don't realize... Since people almost always lose money buying risky bets in the options market, surely other people must be making money by taking the other side of those bets... by selling options.
It's the same reason most people lose the rent money in Vegas... while the casinos can afford to build billion-dollar megaplexes... own huge chunks of the world's most valuable real estate... and pay their executives and owners huge salaries and dividends. Casinos are able to pay for all of this because they take the other side of hundreds of millions of foolish bets. Casinos have the odds overwhelmingly in their favor... constantly. Thus, they are money machines... 'cause as the cliché goes, there's a sucker born every minute.
By learning how to sell options, instead of buying them, investors can learn how to become the casino, rather than the average loser. They can learn how to safely and steadily collect huge amounts of income.
Readers who take us up on our offer to teach them this strategy regularly send us letters to describe how they've made tens of thousands – in some cases hundreds of thousands – of dollars by making extremely safe option trades.
As a publisher, I'm extremely proud that we've been able to help people learn how to use this safe technique to make many times more income on their portfolios than they would have simply investing in conventional stocks and bonds. If you're totally new to this idea, I encourage you to take a trial subscription to Jeff Clark's Advanced Income. It's one of the cheapest and easiest ways to have a world-class trader teach you how to properly sell options.
For a low price,
Advanced Income
will show you how to effectively sell options... And it will provide you with Jeff's best option-selling recommendations. Jeff is an extraordinary trader... and his recommendations are easy to follow. Just learning about this one idea is worth 10 times the price of a subscription. If you'd like to subscribe to
Advanced Income
(without watching a long promotional video), you can
click here
.
Regards,
Porter Stansberry