This week, the news services are reporting on the latest moves by billionaire investor Warren Buffett.
His company, Berkshire Hathaway, has just filed reports with the Securities and Exchange Commission showing it has new stakes in automaker General Motors and media company Viacom.
Buffett also increased his stake in global discount retailer Wal-Mart – one of Dan Ferris' favorite World Dominating Dividend Growers. Buffett recently said he doesn't think the Mexico bribery scandal will harm the company's long-term earnings power. Dan agrees. He sees the recent selloff as a good buying opportunity.
Following the investments of legends like Buffett is a great way to find potential low-risk, high-reward ideas. The world's best investors and traders have massive research budgets. They have the best contacts. They have the best computers and the most extensive databases. They're able to achieve a tremendous "information edge" in the market. That's why looking over their shoulders makes sense.
Over the last few months, we've been developing a trading service that will be accessible to all of our subscribers... not just traders who can afford to spend $2,500 or even $4,000 on a single year's subscription. We're calling it
DailyWealth Trader
... And we're almost ready to share it with you.
The main goal is to educate readers on the best ways to make low-risk, high-reward trades. The service also acts as a "digest" of ideas from the world's best investors and traders.
For example, in the May 1 issue (which was made available only to Alliance members), we discussed one of the top ideas from legendary trader Jim Chanos. As one of the world's best short sellers, Chanos makes money by betting on a company's stock price falling. We highlighted his short position in Brazilian oil producer Petrobras. Chanos says the company is the picture of how government mismanagement wrecks companies. It's also spending hundreds of billions of dollars to develop high-cost offshore oilfields. Chanos is bearish...
As you can see from the chart below, shorting Petrobras was a heck of an idea. The stock has collapsed from $30 per share to less than $20 per share in just a few months. As of yesterday's close, that trade is up 17.5% in just two weeks.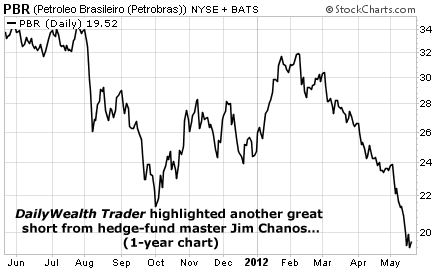 Again, with a subscription to
DailyWealth Trader
, you'll receive ideas from the world's best investors and traders. You'll also receive a priceless education on how to act on those ideas. If you're new to trading... or interested in furthering your market education, you'll get tremendous insights from
DailyWealth Trader
... at a very low price.
To introduce you to this brand-new service, we're putting the finishing touches on a video that describes a key component of our DailyWealth Trader approach to the market. This educational video is the safest and easiest way we've ever found to make money in the market.
Even though this approach is relatively simple, Wall Street has convinced investors that they're not sophisticated enough to understand it.
We believe everyone with a willingness to learn about this strategy can use it to immediately start making at least 20% annually
. You can sign up for our upcoming educational video and receive information on a trading technique we normally charge at least $1,000 to teach
here.
And
DailyWealth Trader
offers another huge benefit... It's going to solve the biggest question many of our readers have...
Many of our readers have subscriptions to multiple financial newsletters. Some folks read dozens of them. That's why many people suffer from "information overload." They have trouble determining which letter's strategy is appropriate at any given time.
For example, in late 2010, traders who went long the "boom and bust" junior mining sector doubled their money in just months. But this strategy was a loser in 2011, when the entire junior gold sector entered a major bear market.
In 2011, it was much more profitable to focus your trading on ideas presented in Dr. David Eifrig's Retirement Trader. "Doc" helped readers make a fortune in 2011 by focusing trades on stable, blue-chip stocks that "sailed" through last summer's market decline.
In
DailyWealth Trader
, we're helping readers focus on what strategies are appropriate for any given environment. If structuring option trades on blue-chip stocks offers the best risk/reward profile, we'll tell you. If
mining stocks
are enjoying a bull market, we'll help you make huge returns there. If biotechnology stocks are rallying, we'll show you how to make leveraged gains there.
In other words, DailyWealth Trader can serve as a "what to read right now" guide for busy investors. In addition to the huge amount of educational videos, you'll get a daily e-mail from us that alerts you to what investing and trading approaches are appropriate at the moment.
We're confident no other product on the market is like this one. And next week, we're offering it at the lowest price you'll ever see. Again, you can sign up to be the first to receive information about
DailyWealth Trader
right here.
Regards,
S&A Research