Oil prices are approaching "crash" levels.
A crash is defined as a 20%-plus pullback in a market or industry. Right now, oil prices are down roughly 15% from their February highs.
The drop has been tough on energy producers. But it's great news for a few select stocks...
Last month, my colleague Matt Badiali called for
a sharp pullback in oil
. He cites oil demand in the U.S. peaking in 2007. Our demand for foreign oil imports is also down from its 2005 peak. This trend will continue based on the huge amounts of oil we've been able to extract from key shale areas across the U.S.
So the fundamentals are weak. And the technical picture is troubling, too. Right now, crude is approaching its 200-day moving average (DMA).
A stock or sector won't always pull back after breaking its 200-DMA. For example, oil prices broke below the 200-DMA in December – only to bounce back. But the 200-DMA is a useful tool that can alert investors to more pain ahead. Last August, for example, oil broke through its 200-DMA... and plunged about $20 – to $77 a barrel – over the next two months.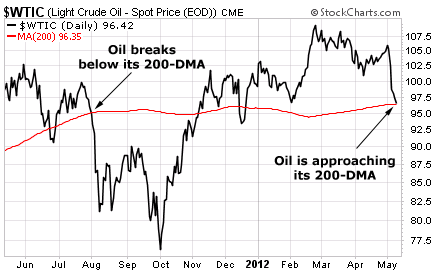 If there is more pain ahead for oil, it'll be great news for retail stocks...
Retail companies benefit from lower oil prices in two ways. First, lower prices mean more money in the pockets of consumers. Second, some retailers also have huge trucking fleets. Lower oil prices will result in massive cost savings. This helps generate stronger margins and cash flow.
That doesn't mean every retailer will outperform. But two growth companies I like are Under Armour (UA) and Coach (COH). These companies have rock-solid brands, and I expect both to grow earnings by more than 25% annually over the next two years.
Two value plays that look attractive are Wal-Mart (WMT) and Target (TGT). These companies have some of the largest trucking fleets in the industry. Both are trading at a discount to the S&P 500 index.
I expect retailers to outperform the market as oil prices push lower. These four names are the best ways to play this trend. I suggest buying these companies on any weakness.
Good investing,
Frank Curzio