Once again, it's time to take a fresh look at the stock market.
We last looked at the S&P 500
about three weeks ago when the index was sitting at 1,370. I suggested the bears were running the show... Stock prices were headed lower... And the S&P 500 was heading down toward 1,345.
Stocks hit that level intraday yesterday before bouncing and closing about 10 points higher. At 1,345, the S&P 500 was oversold. Stocks had fallen for six straight days. The index was more than 30 points below its 10-day exponential moving average (EMA). A 30-point spread is considered relatively extreme. So a bounce was likely... and we got one.
Now, the question is whether the market bottomed yesterday or if we have farther to fall before establishing a base from which stocks can mount a summer rally. Let's take a look...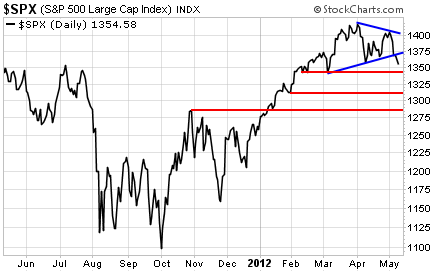 This is an updated version of the chart
I showed you a few weeks ago
. On Friday, stocks broke to the downside of a consolidating-triangle pattern (the blue lines on the chart above). The first move out of a consolidating pattern is often swift and violent. And if the S&P 500 loses 30 points, that would qualify as swift and violent.
The next move is usually a bounce off support and up to the former support line of the consolidation pattern. Support was at 1,345. Stocks hit that level yesterday and bounced higher. If the bounce continues, the S&P 500 should be able to run back up to 1,370 or so over the next few trading days.
But the decline isn't over yet.
The typical measured move out of a triangle pattern is equal to the size of the triangle itself. The S&P 500's current triangle formation starts at the March low of 1,350 and rises to April's high of 1,420. That's 70 points. So the breakdown from the pattern should measure 70 points as well.
Subtract 70 points from the support line at 1,370, and we can expect a move all the way down to about 1,300. Account for a little wiggle room, and the red support lines at 1,310 and 1,290 look like realistic targets to mark the end of this pullback.
Right now, stocks are oversold in the short term. The S&P 500 will likely bounce back up and retest its former support line around 1,370. But it's still not time to aggressively buy stocks. The odds favor another move lower for the stock market somewhere around 1,290 and 1,310.
That's where traders should be looking to buy.
Best regards and good trading,
Jeff Clark