We got an interesting e-mail this week from our friends at money management firm T2 Partners.
Managing partner Whitney Tilson says his firm took a 2% equity and 2% option position in Barnes & Noble, the embattled bricks-and-mortar bookseller. This came as a bit of a surprise to me because T2 had long been short Barnes & Noble. T2 covered its short one morning recently... and before the day was over, it went long.
The stock closed around $13.68 on Friday, April 27... And today, it's trading around $18. So T2 is likely up more than 30%.
Barnes & Noble soared last Monday on the news that Microsoft planned to invest $605 million to acquire a 17.6% stake in Barnes & Noble's Nook e-reader and college bookstore businesses.
I share this with you because I believe it demonstrates an action and a way of thinking that are rare. Most people fall in love with their stocks. The thought of reversing a short (or long) bet and taking the opposite position never occurs to them. If the stock falls apart, they usually spend their time justifying the mistake and deciding it'll just take longer to be proved right. Remember... investors tend to be their own biggest obstacle to making money in stocks.
Tilson said this is only the fifth time in his firm's 13-year history that it has gone long a previous short. It's done well the other four times, reversing short bets on Fairfax Financial, Wells Fargo, General Growth Properties, and Netflix.
Take a lesson from T2 and stay on top of your portfolio. Make sure you always know why you're still long or short and be prepared to change your mind when the facts change.
We've spent a lot of time discussing
the merits of investing in capital-efficient businesses
... In particular, we highlighted quarterly earnings from some of the world's best companies, like Hershey and Coca-Cola. In each case, we showed you how these companies' strong brands allowed them to raise prices to offset inflation and improve earnings. Why do we spend so much time discussing these capital-efficient companies? We believe understanding the concept of capital efficiency is the key to getting rich in the stock market. If you invest in these companies for the long term, you will make money.
Today, we'll discuss another one of the world's best businesses (and another capital-efficient power house), Anheuser-Busch InBev.
The case for AB InBev is simple... Beer is the third-most popular drink on the planet behind tea and water. And AB InBev is the biggest beer maker in the world. The company is one of Dan Ferris' World Dominators. As Dan wrote in his May 2010 issue of
Extreme Value
(when he first recommended AB InBev)...
I don't know the future of the banking system or the U.S. dollar. I don't know what the Fed will do at its next meeting. I can't tell you where interest rates will be in a year or whether the S&P 500 will be above or below its current level. Bullish as I am on gold, I can't honestly tell you where it'll be next year, either. But I'm Nostradamus when it comes to beer...
People the world over will drink plenty of beer next year, next decade, and next century. It'll remain the most popular of all alcoholic beverages for a long, long time. I'm certain of it. Value investors aren't supposed to make predictions, but I'm willing to stake my reputation on this one: People will not stop drinking beer, no matter what happens in the next 12 months.
In the first quarter of 2012, a full two years since Dan's prediction, AB InBev shipped 1.8% more beverages around the world. The volume of U.S. beer sales grew 1% compared with the first quarter of last year. Global sales volume for Budweiser, one of AB InBev's three flagship brands (the others are Stella Artois and Beck's), increased 7.3% for the quarter. Earnings increased to $1.69 billion from $964 million a year earlier. And revenue increased to $9.33 billion from $9 billion.
The company's cost of sales per hectoliter (100 liters or 26.42 gallons) increased 2.8% in the quarter due largely to higher commodity costs (costs increased 1.6% in 2011). But the company was able to offset that increase by raising its prices in the fourth quarter of 2011. (The company did not disclose how much it raised prices.)
A side note from the quarterly release... AB InBev launched Bud Light Platinum at the end of January. (You may remember
the commercial from the Super Bowl
.) The company said the new beer "has proven to be the most successful brand launch in the U.S. alcohol industry since 2005." In just four weeks through April 1, 2012, Bud Light Platinum had captured a 1.4% share of the U.S. beer market.
Longtime readers know we're bearish on solar power. And our thesis proved to be correct...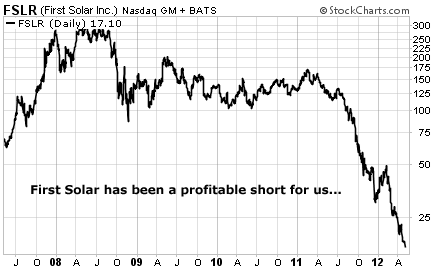 We first started shorting the sector (through solar bellwether First Solar) in January 2008, when Porter Stansberry asked if First Solar was "the most overvalued stock in the world." The stock was trading at $225 per share at the time (near its all-time high). Today, it trades around $17 a share.
If you missed your opportunity to short solar the first time around, your second opportunity may be here... The sector rallied this week after Citigroup analyst Timothy Acruri called a bottom in the solar sector. He noted improving sales in Europe (where the government subsidizes the sector). Despite Citigroup's optimism... nothing has changed about the solar-energy industry's fundamental flaws... The products don't work in heat, the businesses depend on government subsidies, and the prices of panels are plummeting. These weaknesses will eventually outweigh a short-term spike in sales.
We disdain IPOs nearly as much as solar-energy companies... Investing in them is generally a fool's game. You see, most businesses go public for one reason – so the principals can cash out. The principals want to squeeze the market for as much money as possible. The Wall Street banks, which earn huge fees from the principals for arranging these offerings, cram the IPO shares down the throat of every buyer they can find – hoping to drive up the stock price. In the end, the public is left holding shares in an overhyped, often ill-performing company.
Now... imagine if you could combine a bloated
solar power company
with an IPO. It would seem like an ideal short-sale opportunity...
Last Monday, SolarCity, a leading installer of rooftop solar panels, said it filed paperwork with the Securities and Exchange Commission last week, indicating its interest in going public. Company executives wouldn't comment on the potential IPO.
This first step toward a public offering comes as the solar industry is scaling back... First Solar and SunPower are firing employees and halting operations. Another solar power company, BrightSource, canceled its IPO a few weeks ago. Enphase – a company that makes "solar inverters" (a key component in the panels that converts the solar energy into current for the power grid) – recently went public and sold its shares for half the target price. LDK Solar, the world's second-largest maker of wafers for solar cells, announced last Monday that it cut 5,554 jobs (22% of its workforce) this year. Eight solar companies have filed bankruptcy in the past year.
In short, it's a bad time to be a solar company. And it's a
terrible
time to be a solar company trying to sell shares to the public. If shares of SolarCity rally out of the gate, we'd expect a quick round trip back down...
Regards,
S&A Research