Despite a lot of pessimism toward the economy, things are gradually getting better for the economy...
Just ask 3M.
You probably have some 3M products in your house, like Scotch tape or post-it notes. 3M is a $62 billion behemoth that sells thousands of different products. The business reaches into almost every industry... from construction to electronics and even health care. The firm is a great "bellwether" for how the global economy is doing.
For the first quarter of 2012, 3M's sales grew by 2.4%. Earnings jumped nearly 7%. Shares rose 1.6% after the announcement.
Executives at 3M have a front-row seat on the economy. When things slow down, they immediately see fewer orders from the car companies that use 3M's adhesives in manufacturing. Homebuilders will buy less of 3M's filtration products for central air units. TV manufacturers won't need as much of the thin film 3M makes for coating LCD screens.
And though many analysts are predicting another recession, 3M's results show things are actually going pretty well. Its stock price chart agrees.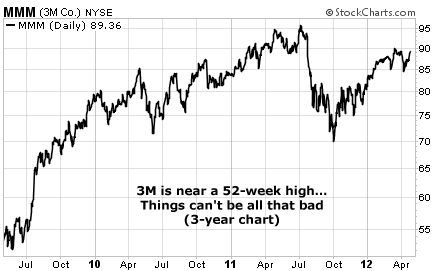 As you can see, 3M shares suffered a big selloff last year. This was due to fears the world would slip into another recession. But the gradually improving economy has helped shares stage an impressive recovery. They're close to a 52-week high.
Over the last decade, shares of 3M have shifted from cheap to expensive depending on the economy. The stock traded as high as 28 times earnings at the end of 2003. When the economy tanked at the end of 2008... shares traded below 12 times earnings. Right now, shares of 3M trade around 14 times expected 2012 earnings.
Put another way, shares are trading near the bottom of their historical valuation range.
For patient investors, there are lots of high-quality businesses to consider. Below is a short list of companies that are still growing sales and earnings... but are trading at cheap valuations because investors are still worried about the economy.
| | |
| --- | --- |
| Company (Ticker) | 2012 P/E ratio |
| CSX (CSX) | 11.2 |
| Johnson Controls (JCI) | 11.8 |
| Dupont (DD) | 12.5 |
| FedEx (FDX) | 13.4 |
| Illinois Tool Works (ITW) | 13.6 |
The best part for contrarian is... these are all "hype-free" businesses. They're the kinds of companies that few investors ever consider, because they don't seem exciting enough. Not many people get excited at the thought of buying a "boring" company like 3M. But it has a terrific track record of paying steady and rising dividends. (The yield right now is around 2.6%.)
This isn't to say that the economy is booming. It's not.
But as you can see from 3M's improving sales... and the big uptrend in its share price... things are gradually improving.
Good investing,
Larsen