In the December 2007 issue of Porter Stansberry's
Investment Advisory
, titled "Our Best No Risk Opportunity Ever," he wrote...
This is the beauty of capital-efficient businesses: As sales and profits grow, capital investments don't. Thus, the amount of money that's available to return to shareholders not only grows in nominal dollars, it also grows as a percentage of sales. As you can see in the chart above, in 1999, dividends paid out equaled 3.4% of sales. But by 2006, the company spent $735 million on dividends and share buybacks, an amount equal to 14.8% of sales.
Porter has written many times that he expects Hershey to be his best investment recommendation ever. The company is incredibly capital-efficient. It can raise prices at a rate that exceeds inflation. And best of all, the controlling shareholder (the Hershey Trust) isn't allowed to sell. This sets up the ideal conditions for long-term, compounding returns in a safe, high-quality stock. So far, his thesis is playing out almost perfectly. From Hershey's most recent quarterly report (released yesterday)...
Last year Hershey... raised prices by nearly 10% to offset rising prices for raw materials including sugar, fuel and packaging... higher prices helped offset slightly lower volume and sent revenue up 11 percent... net income rose to $198.7 million (+24.1%) for the quarter.
Porter once pointed out that Hershey's chocolate bars were at least as good as gold at
keeping pace with inflation
. And unlike gold, Hershey pays dividends (currently 2.4%) and buys back a lot of stock. He expects we'll see a large ($1 billion) share buyback over the next year and at least a 10% increase in the dividend. Shares rose 6% on Tuesday following earnings... Subscribers to his
Investment Advisory
are up nearly 80% since he recommended the stock in 2007.
What Porter calls "capital efficiency," Warren Buffett calls "economic goodwill." They're the same concept... And it's one of the most important concepts you can learn if you want to be a great investor.
In short, capital-efficient companies earn large returns on tangible assets without large capital expenditures. And they can increase their returns without big increases to capital spending. As a result, they can pay the excess returns out to shareholders via stock buybacks and dividends.
The secret to producing these excess returns is a strong brand... People are willing to pay more for products they love (think Coca-Cola).
Porter used Coca-Cola as the model of a capital-efficient company in the October 7, 2011
Digest
...
Coke owns around $15 billion in property, plant, and equipment. It has $8 billion in long-term investments and more than $21 billion in cash and working capital. Altogether, that's about $45 billion in capital.
Against these assets, it can borrow roughly $42 billion – that's long-term debt, receivables, etc. This is capital it doesn't have to keep in the business because it has such a strong business and reputation, it can borrow at cheap rates. That's been true, by the way, irrespective of the nominal level of interest rates.
Coke's real (that is, after tax and after inflation) cost of borrowing is extremely low. On a net basis, Coke runs its entire operation on only $3 billion in capital. And on this $3 billion in net capital... it produces annual cash flows in excess of $9.5 billion. That's a return of 216% on net tangible capital.
Buying stock in capital-efficient companies – which, as we said, can raise prices to outpace inflation – is one of the best ways to protect your capital in a world of 0% interest rates.
And Dan has a portfolio full of these companies in
The 12% Letter
... Plus, he just recommended a new one. This company is the leader in its sector. And it pays a 3.8% dividend. This company has paid a dividend every year since it went public in 1970... And it's increased its dividend for 42 straight years. To learn more about
The 12% Letter
,
click here
...
The underperformance of gold stocks to the price of gold continues to surprise us. Take a look at this five-year chart of the Gold Bugs Index (the HUI) versus the price of gold... the HUI represents a basket of gold stocks... North America's three largest gold miners (by market cap) – Barrick Gold, Newmont, and Goldcorp – make up about 43% of the index.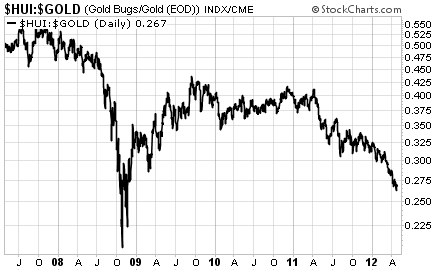 This week, major mining stocks like Barrick Gold, Newmont, Goldcorp, and Allied Nevada traded at 52-week lows. Meanwhile, the price of gold has stayed steady this year (trading between $1,600 and $1,800 an ounce). Gold stocks are cheaper relative to the price of gold than at almost any time since the gold bull market began 11 years ago. The only time the ratio was lower was in 2008, when the financial crisis drove down the prices of nearly all stocks.
We checked in with
S&A Short Report
editor Jeff Clark for an update on the gold market... He's been following – and successfully trading – the gold markets for years.
Just last fall, Jeff enjoyed an incredible run of success trading gold stocks. Among his trades, he helped S&A Short Report subscribers book 140% in one week by shorting gold (through puts on GLD)... Then, he booked an 80% gain in two weeks on the Market Vectors Gold Miners Fund (GDX)... 100% in three weeks on Gold Fields... 100% in three weeks on Seabridge... 70% in one month on Kinross Gold, and many more.
For the past four months, he's been waiting for gold stocks to retest their December lows.
Jeff e-mailed me earlier this week to tell me he thinks last Monday could have been an "exhaustion day" for the sector. The technical indicators he watches are stacking up for a big rally in the sector... "We have extraordinarily cheap fundamentals. And we now have potentially bullish technical developments," he said. "On top of all that, investor sentiment – a contrary indicator – toward gold stocks is as bearish as I've seen it in a decade."
Jeff concluded... "I can't help thinking that five or six months from now, we'll look back and say, 'I can't believe we had the chance to buy those stocks so cheap.'"
To learn about the systems Jeff uses to trade the gold market and be in position to receive his next gold-stock recommendation,
click here
...
Regards,
S&A Research