There's an interesting trade setting up in coal stocks...
The downturn in the sector has been brutal. Prices of the dirty fuel have been in freefall for over a year. That's mostly due to the collapse in natural gas prices. You see, natural gas is an alternative fuel to coal. Due to huge cost savings, utility companies are saving boatloads of cash by converting to the clean fuel.
But another coal trend is starting to move in the other direction. And I think it's good for a quick, 25% jump. Let me explain...
To get a better idea of how much coal stocks have fallen out of favor, take a look at the chart below. The Market Vectors Coal Fund (KOL) has underperformed the S&P 500 by 40% over the past 12 months.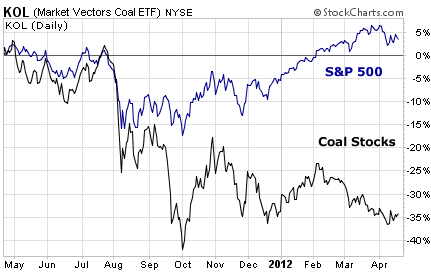 It looks terrible. But KOL has positions in stocks besides American coal miners. For example, 15% of the fund is invested in a China-based company and Joy Global, a mining and coal equipment manufacturer. That's helped boost returns. The reality for individual coal producers is much worse.
Some analysts have been calling for a bottom in coal stocks for months. One month ago,
I suggested avoiding the sector
until we see a bottom in prices or a pick-up in demand.
Today, we are getting a little bit of both.
Over the past few weeks, metallurgical ("met") coal prices have bounced off their lows. Met coal helps produce coke – a raw material that's essential in the steelmaking process. (The other form of coal is thermal. That's used in power generation, which means it's competing with super-cheap natural gas.)
Met coal prices peaked at $380 per metric ton in January 2011. Since then, met coal prices collapsed 47% to $200 per metric in March. However, prices seem to have formed a bottom – pushing 10% off their lows in the past few weeks.
The reason for the jump in prices could be due to the recent increase in global steel utilization. In the past two months, this number has been steadily moving higher. That's an indication that demand is coming back into the market.
Most steel companies confirm this demand. Steel Dynamics and Nucor, two large steel producers, reported weak numbers last quarter. However, during their conference calls, both indicated that demand for steel is improving.
Investment banks Goldman Sachs and Morgan Staley look to be aboard the rebound train. Both firms upgraded Patriot Coal in the past few weeks from sell to neutral. Patriot Coal is a large producer of met coal. Shares are down 70% over the past 12 months.
Patriot Coal will be a beneficiary of higher met coal prices. However, the company has a weak balance sheet and needs to restructure some of its debt. I think the better plays are Walter Energy (WLT) and Alpha Natural Resources (ANR).
These companies are also big met coal producers. And they're about five times larger than Patriot Coal (in terms of market cap) with much stronger balance sheets. If met coal prices happen to turn down again, they're more likely to weather the storm.
Over the last year, shares of Walter Energy and Alpha Natural are down 45% and 70%, respectively. If you're interested in betting on coal, start "scaling" into these stocks. Buy a little bit of your position at a time.
Based on risk/reward, it's difficult to find two better stock plays. If these companies report any good news over the next few months, I wouldn't be surprised if their stocks jump 25%-plus from these super-depressed levels.
Good investing,
Frank Curzio