One by one, the "speculative" uptrends are falling over like dominoes.
For some investors, the stock market is doing great. Early last week, the S&P 500 closed at its highest level since May 2008. Dividend-paying stocks and Apple (which is basically its own asset class now) have led the way.
But many of the speculative "boom and bust" sectors we write about so much in Growth Stock Wire are struggling.
Over the past three weeks, a number of "boom and bust" areas took a dive. Oil services stocks (OIH) plunged 9%. Gold stocks have plummeted to new 52-week lows. Emerging markets like Brazil (EWZ) and China (FXI) are down 6% and 5%, respectively. The big homebuilder uptrend has stalled. After rocketing 60% since October, the homebuilder fund (ITB) is unchanged over the past two months.
Amid all this "shaky" action, one of my favorite speculative sectors is doing fine – biotech stocks. While most risky sectors sold off the past few weeks, the Nasdaq Biotech Index gained more than 2%... and reached a new 52-week high.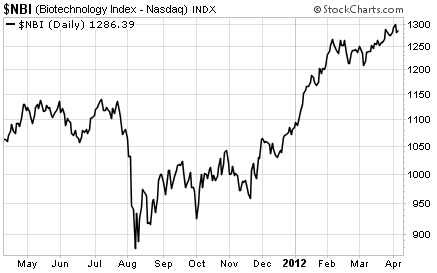 You might be thinking, "2% doesn't sound like much... so what?"
Well, when a group of stocks moves higher (or even moves sideways) in a weak market, that's called "relative strength." It's a signal that there are "big money" investors behind certain stocks.
Relative strength is often a good sign that a sector has extremely strong fundamentals. That's the case with biotech right now. Specifically, big pharmaceutical companies need to replenish their drug pipelines... and they only have one option: buying smaller biotech companies that have attractive drugs in development.
I said, "Big Pharma executives realize the only way to boost revenue growth, while earning a reasonable return on their investment, is to buy biotech assets at distressed prices... I expect the sector to jump off these low valuation levels once drug companies start opening their wallets."
Two weeks ago, the news leaked out that Amylin Pharmaceuticals (AMLN) had turned down a $3.5 billion bid from Bristol-Myers Squibb (BMY). Shares rocketed 54% on the day of the news.
The fact that Amylin turned down Bristol-Myers' offer is interesting because it's the same story as the other major deal of 2012. In late January, Roche made a hostile bid to buy Illumina for $5.8 billion. After Illumina said no, Roche raised its offering price by 15%, to $6.7 billion.
Last week, Illumina's board rejected the new, higher bid.
The takeaway here is that smaller biotech companies know they're sitting on valuable assets. Unlike profitable companies, it's harder to pin an "exact" value number on them. The most common way that value is "realized" is when a big drug company moves to buy the company.
For investors, there's an important trend here. If these recent "rejections" are any sign, Big Pharma companies are going to have to shell out more money to snatch up biotech companies.
It's also notable that these recent deals are small compared to mega-deals like Roche's $47 billion purchase of Genentech or Sanofi's $20 billion acquisition of Genzyme.
In short, there's a lot of money out there chasing a limited supply of biotech companies. This strong fundamental story is showing up in the charts. This tells us that, should the broad market keep rising over the next year or two, biotech stocks are a great way to play it.
Good investing,
Larsen