We have a big opportunity in gold miners right now...
As I told a colleague, I think investors who miss the opportunity now will look back on March 2012 and wonder, "Why didn't I load up on those stocks when I had the chance?..."
You see, despite the selloff of the past month or so, there are a lot of things to like about gold stocks right now...
But I think this chart makes one of the most compelling arguments for owning gold stocks today. It shows the past two years of price action in GDX, the big gold-stock fund (the blue line), and the gold price (the gray line). Take a look...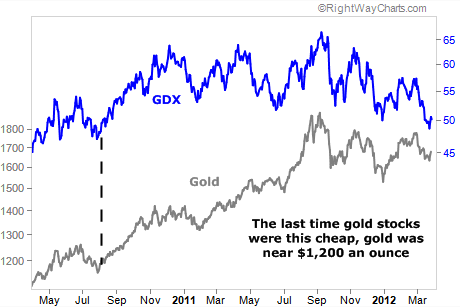 Right now, GDX is trading for around $50 per share. It hasn't been that low in price since mid-2010... when gold was just over $1,200 per ounce. Gold is going for just under $1,700 an ounce right now. In other words, gold miners are priced like gold is going to fall nearly 30% from here.
I'm not saying that can't happen. Gold is a historically volatile asset, so anything can happen.
But in the long term, the engines behind gold's decade-long bull market aren't going away. Growing Asian nations are still buying gold. And Western governments in the U.S. and Europe have taken on debts and obligations that cannot possibly be paid with sound, honest money. They will be paid with devalued, debased paper money. Gold and silver, being "real money," will rise as a result.
At these levels, gold-stock investors don't even need gold to rise. Gold at today's prices means historically fat profit margins for gold miners... which will drive higher earnings. That makes buying shares a low-risk speculation right here.
Good investing,
Matt Badiali