Today's essay is an unusual one...
First of all... it comes solely from me, Brian Hunt, editor in chief of Stansberry & Associates.
And it's a personal letter that I believe can help transform anyone into a successful short-term trader.
Whether you have years of experience trading the markets... or none at all... or if you've solely focused on long-term stock investments... the idea I'm about to pass on can help you make a tremendous amount of money.
This idea helped me – starting from scratch, with no money at age 18 – to become a millionaire in my early 30s. It's an idea I used to quickly and easily make $5,900 on a trade last month, which returned 42% on margin (438% annualized). It's an idea I plan to use to safely compound the capital in my brokerage account by at least 20% per year for the rest of my life.
This idea is a large reason why I know I will never worry about money for the rest of my life (barring a freak health disaster to me or my family).
Before I reveal this idea, it's important to note the financial "theory" that folks are taught in school and by most investment books states that to make large gains in the market, you must take large risks.
Maybe it's because I never went to college... or maybe it's because I hang around so many millionaire investors and traders... but I've never believed in any of that academic claptrap. It's simply not true. And I know the people who think otherwise probably couldn't invest or trade their way out of a paper bag.
If someone tells you that you have to take large risks to make large returns in the market – whether he is a "highly educated" broker, financial advisor, 401(k) administrator, or family member – realize that he is dead wrong.
You don't have to take large risks to make large returns in the market. It's actually quite the opposite. And I'm going to show you how...
The idea I'm talking about is something I've labeled the "
carve out bottom
."
Once you learn how to identify "carve out bottoms"... pile up winning trade after winning trade after winning trade... and start making thousands, hundreds of thousands, even millions of dollars... you'll see why you don't have to take big risks to make big money. And you'll never want to trade any other way again.
This idea – of "carve out bottoms" – is so utterly, laughably simple... I'm almost embarrassed to admit that I believe it is one of the great keys to success in the market.
It's so simple, it took several years to convince myself this methodology could be relentlessly profitable. After all, the market is a complex mechanism... shouldn't it take a complex strategy to beat it?
No.
Not if you trade "carve out bottoms."
What I call a "carve out bottom" is created when a given asset suffers a huge selloff... forms a bottom for a period of time... and then starts marching higher. The chart below of big technology company Hewlett-Packard (HPQ) shows a typical "carve out bottom."
As you can see, HPQ suffered a large selloff from early- to late-2011. Shares fell from $45 all the way down to $22. A CEO scandal and long-term strategy problems sparked the decline. After hitting $22.50, HPQ "carved out" a bottom in the $22.50-$27.50 area... and then began working higher.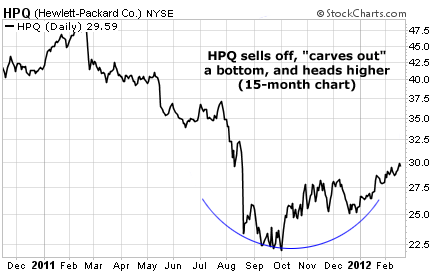 I told you it was laughably simple. But trust me... it's also incredibly powerful.
Here's why...
Buying into situations where an asset – whether it's a stock, commodity, stock index, or an exchange-traded fund – is hammered and then forms a bottom gets you into what our own Dr. Steve Sjuggerud calls "bad to less bad" trades.
"Bad to less bad" trades are the safest and most profitable trades in the world. They allow you to risk a little bit of money for the opportunity to make a great deal of money... quickly.
You see, when an asset suffers a major selloff... or has endured an extended bear market... people say things are "bad" for that asset. Nobody wants to buy it. These sorts of selloffs can come as a result of many things... like a natural disaster, an industry downturn, a CEO problem, or a broad market decline.
When things are "bad" for a given asset, interesting things start to happen. Mention the asset to someone at a cocktail party, and they will recoil in disgust. You never see it on a mainstream magazine cover because the publishers know having that particular asset on the cover would repulse readers and potential newsstand buyers.
Around this time – when most folks can't stand the thought of buying that asset – it can start trading for less than its real, intrinsic value.
In this kind of "bad" condition, you can often buy an asset for a fraction of its book value... or in the case of an individual company, at an extremely cheap price multiple of its annual cash earnings. These "no brainer" valuations present themselves only after big selloffs... when black pessimism reigns.
But if you step in and buy amid pessimism and pay 50 cents on the dollar for valuable assets, you can double your money if just a tiny bit of optimism returns to the market and sends the asset back to its book value.
Mind you, it doesn't take great news to double the price of a cheap, hated asset... It just needs things to go from "bad to less bad."
These situations are like coiled springs. All they need to soar is for the downward pressure to be released.
For example... look at offshore oil drilling firm Ensco (ESV). Shares of drillers like Ensco became very cheap and hated after the Gulf of Mexico oil-spill disaster in mid-2010. But just six months later, the selling pressure had eased, and Ensco shares had rebounded 52%.
And the great part of "bad to less bad" trading is that because of the pessimism surrounding the asset,
your trade has little downside risk
. Everyone who wanted to sell has already sold. The selling pressure gets exhausted.
The risk gets "wrung out" of the trade
.
Even though selling pressure has generally been exhausted in these situations, I still recommend protecting your capital with risk-limiting stop losses. For these "bad to less bad" trades, you can set protective stop losses near the recent lows. This gets you into trading setups where you are risking $1 to make $5, $8, or $10.
You might be asking: Why not wait for "bad to less bad
to good
"?
After all, "good" sounds better than "less bad," right? Shouldn't you wait for some good news to emerge before taking a long position in a depressed asset?
No.
By the time the good news hits the presses, the big money has already been made. Steve Sjuggerud often drives this point home. He points out that you make the extraordinary gains just when a glimmer of light appears. Not when the whole sun comes out. You have to be willing to get in there and buy when it feels uncomfortable... near the point of maximum pessimism.
If you wait until the news gets rosy and people realize the world isn't ending, you're going to be too late. You're going to miss out on the big, easy, early gains.
Just thinking about buying something in a "bad" condition might make you feel sick to your stomach. But the seasoned trader knows the "sick to my stomach" feeling is often a great buy signal. The great trader Peter Steidelmeyer is credited with saying, "The hard trade is the right trade." That quote is one of the ultimate pieces of trading advice.
Be sure to keep in mind... This style of trading does not result in easy "slam dunk" trades all the time. It's not a path to riskless, effortless riches. It takes work, smart exit strategies, and good timing to get the whole strategy right.
A bad situation can get worse. That's why I said to reduce your risk with stop losses... You also should wait on a bit of price confirmation...
That means I like to see the price move just a little bit in the "less bad" direction. A plunging asset is like a falling safe. If you try to catch it in the air, you'll get crushed. It's best to wait for the safe to hit the ground... then walk over and collect the money.
I like to see prices slam to a bottom... then move just a bit higher from their lows. Maybe this involves waiting for a 5% move off the lows... or waiting for the asset to reach a two-week high... or to cross above a moving average. The key here is waiting for the price to "confirm" your trading idea. This reduces the risk that you're buying something in free fall.
For example, another "carve out bottom" came when blue-chip copper miner Freeport-McMoRan (FCX) was hammered from $55 per share to $8 per share in late 2008... and then formed a bottom around $10. In this situation, one might wait for price confirmation in the form of shares breaking out to the upside past $12 or $13 per share. (FCX went on to rally more than 300% off its lows in 10 months.)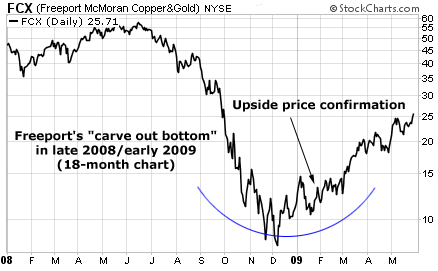 When it comes to "bad to less bad" trading on longer-term ideas – the buying of assets that have been in long bear markets – you also want to see some sort of catalyst on the horizon that will cause the bear market to end.
For example, gold was a "bad to less bad" longer-term trade in the early 2000s. The catalyst that caused gold to emerge from its downtrend was the big decline in the value of paper currencies... and emerging buying power from Asian countries like China and India. Waiting for a catalyst to appear ensures you're not buying an asset that will just sit there and do nothing.
In the case of Hewlett-Packard (above)... I felt like the selling pressure keeping the tech giant down had dissipated in November and December. And with the stock trading around five times expected 2012 earnings, it was very cheap.
This is what I imagine drew the attention of one of the world's great professional stock investors, Seth Klarman. It was around the depressed levels of late 2011 that Klarman made HPQ one of his largest positions. But at the time, the rest of world hated HPQ stock.
Near the end of December, I opened an option trade on HPQ that would profit if the stock moved sideways or slightly higher. The trade offered limited downside and fantastic upside.
January came, and HPQ rallied along with the rest of the market. I closed the trade and booked a $5,900 profit. At the core of this trade was the simple idea that HPQ had "carved out" its bottom... and went from "bad to less bad." (Editor's note: We must note, after the profitable trade was closed, HPQ turned lower again.)
If you go through the Stansberry & Associates archives, you'll see scores of successful "bad to less bad" trades...
Jeff Clark is a master at timing these situations for very short-term profits. The "bad to less bad" gold stock trade I mentioned in
DailyWealth
right here
was good for a 115% gain in less than one year.
Matt Badiali scored two 300%-plus wins with Northern Dynasty Minerals and Silver Wheaton as the hated mining sector went from "bad to less bad" in 2009 and 2010. And as real estate stocks went from "bad to less bad" in 2009, Porter's subscribers made 55% in six months with a simple real estate stock fund.
My friend and former 12% Letter editor Tom Dyson scored a 173% return in a "boring" pipeline company (Enterprise Products)... simply because he recommended shares of the company when things were "bad" for pipeline stocks.
In other words, you can make a fortune by acting as a "trading vulture" that sits on the tree... and only swoops in to take action when things are laid low... when things are "bad."
This style of trading isn't the only way to make money in the market. You can make money buying assets that are trending higher and selling them at an even higher price, as long as you cut your losers short and let your winners run.
But in my experience, trading "bad to less bad" situations is a safer, more reliable way to make money. It does an extraordinary job of ensuring you follow the ultimate rule of trading... a rule that can make anyone wealthy. This rule is to make a lot of money when you are right, and lose a little money when you are wrong.
If you do nothing else for the rest of your life in the market but look for "carve out bottoms" to trade "bad to less bad" situations (while using intelligent exit and position-sizing strategies), you're almost guaranteed to make money in the stock market.
I admit once again that this is a simple idea. But most of the world's most powerful ideas are just that.
I've written about these ideas constantly over the years in my
DailyWealth
Market Notes... and I've highlighted dozens and dozens of profitable "bad to less bad" trading setups. I also practice what I preach. The ideas in this letter form the basis of my own investment and trading strategy... And they'll form the basis of Stansberry & Associates' upcoming premium daily product,
DailyWealth Trader
...
Our lifetime S&A Alliance members are receiving our best low-risk/high-reward trading ideas in the world right now (while helping us work out any "kinks" in this unusual product). Soon, we'll open this product up to a broad audience. More to come...
Regards,
Brian Hunt