Energy investors need to make a long-term shift in their thinking.
Last week, the U.S. Energy Information Administration
reported
natural gas inventories increased for the first time this year.
By itself, the increase may not seem like a big deal... except that natural gas storage levels are already at record levels for this time of year.
This is the latest piece of evidence that natural gas prices will likely stay low longer than anyone betting otherwise can stay solvent.
Let me explain...
Natural gas is a big part of heating homes during the winter months. So as colder weather arrives around late October, demand for natural gas typically moves above production. In other words, we start using enough natural gas to work off the built-up inventory. Then, in the warm months, inventory rises.
This cycle repeats year after year. Except this year, things are out-of-whack.
As most
Growth Stock Wire
readers already know,
natural gas production is skyrocketing
. Back in November, I noted that even after double-digit production growth in 2011, natural gas drillers like Range Resources and Cabot Oil were set to increase their natural gas production by 40% to 50% in 2012.
Add to that an unusually mild winter in most of the U.S., and natural gas inventories are at extreme levels.
Last week's inventory report confirmed that the U.S. has 2,380 billion cubic feet of natural gas sitting in storage. That's a record high for this time of year and 47% more than we had in storage a year ago.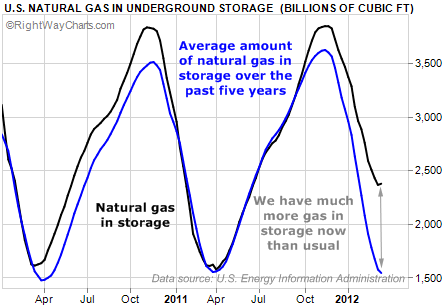 Put another way, we're just starting the seven-month period when excess natural gas production starts going into storage... and inventories are already way above normal.
Last week, the Wall Street Journal reported that natural gas storage facilities are at 58% of capacity. It's the first time in five years that the U.S. has been above 44% of capacity in mid-March.
Meanwhile, of course, U.S. natural gas prices are sitting near 10-year lows.
With no sign of increased demand until next winter, producers are trying to cope by cutting production. As my colleague Frank Curzio noted two months ago, Chesapeake, America's self-described "champion of natural gas," already announced
a 50% cut in "dry" gas production
. ("Dry" gas is industry-speak for wells that produce natural gas without valuable "liquids" like ethane, propane, and butane.)
Normally, when production shuts down, supplies fall, and inventories drop... prices rise. But I don't expect that to happen with natural gas... not for a LONG time.
You see, during Chesapeake's quarterly conference call last month, analysts asked why the company had adjusted its financial expectations for 2012 but not 2013. CEO Aubrey McClendon replied, "If the gas market is attractive enough, there's a likelihood that we could produce more gas in 2013 than what we presently have modeled."
That's just another way of saying, "The instant that natural gas prices go up slightly, we're gonna crank up the rigs and start producing again."
In short, there's no end in sight to low natural gas prices. Inventories are already at record highs, which creates downward pressure on prices. Meanwhile, producers like Chesapeake have their "finger on the button"... ready to dump more natural gas onto the market if the price rises.
There's no sign of this trend changing any time soon. If you're betting on a dramatic recovery in natural gas prices, you're not likely to see them this year... or possibly for years to come. There are much better spots for your money.
Good investing,
Larsen