The mild winter (it's been sunny and warm in Baltimore this week) has been beautiful... But it's wreaking havoc on the natural gas market... The government recently said supplies were 45% higher than average for this time of year. On Wednesday, natural gas prices fell 2% to $2.31 per 1,000 cubic feet – the lowest price since February 25, 2002.
Commodities guru Stephen Schork told the Associated Press that natural gas could drop even more... "There's just too much out there," Schork said. "And there won't be enough demand out there to solve the supply issue this summer."
While natural gas is at 10-year lows, oil is trading for more than $106 a barrel. Take a look at the chart below... It's the 20-year ratio between the prices of West Texas Intermediate crude and natural gas. For years, this ratio stayed in the six-to-10 range. A spike to the low "teens" meant natural gas was really cheap...
Recently, the ratio spiked past 45. Natural gas has never been this cheap compared with oil... not by a mile.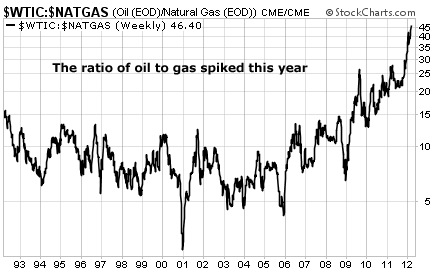 You may have seen the headlines this week about China lowering its gross domestic product (GDP) target to 7.5% from 8% – acknowledging a slowing economy. More interesting to us... Bloomberg recently reported the country is curbing auto-manufacturing capacity... Deliveries of passenger automobiles in China fell 3% in the first two months of 2012 from a year earlier. That's the biggest drop since 2005, when deliveries plunged 8.9%.
To prevent overcapacity, China removed preferential treatment for foreign automakers on Chinese plants. In addition to cars, the Chinese government is curbing capacity in three other industries – steelmaking, shipbuilding, and cement production. In other words, China is bearish on its consumers, international trade, and construction.
While China is slowing its automobile production, the U.S. is ramping up production of a certain type of vehicle... those powered by natural gas.
According to the
Wall Street Journal
, Chrysler Group plans to build the first production pickup truck fueled by natural gas. Beginning in June, the company will build at least 2,000 bi-fuel Ram trucks. "Bi-fuel" means the truck will use a combination of
compressed natural gas
(CNG) and gasoline. And General Motors today is also planning bi-fuel versions of the Chevrolet Silverado and GMC Sierra 2500 pickups in the fourth quarter of 2012.
"For us, this is the first step and if the opportunity presents itself we wouldn't turn our back on a CNG-powered passenger car," said Peter Grady, Chrysler vice president of network development and fleet. "We aren't working on it now but we do have it in the back of our minds."
Frank Curzio has been closely following the
natural gas as transportation fuel megatrend
. In short, Frank believes natural gas' low price and abundance will make it a more attractive fuel than traditional gasoline for automobiles. And the U.S. will spend billions of dollars building natural-gas-fueling stations. (The U.S. has only 1,000 today.) The companies involved in this trend will soar as the large U.S. auto manufacturers start producing more natural-gas powered cars. Frank's prepared a special report for his subscribers outlining his favorite companies to benefit from this trend. To learn about a subscription to
Small Stock Specialist
– and how to get a copy of his natural gas report –
click here
.
Meanwhile, China's economic planning agency, the National Development and Reform Commission (NDRC), endorsed a plan for Shanghai to become an international yuan-trading center by 2015... It plans to increase the volume of financial transactions from $61.2 trillion in 2010 to $158 trillion per year. That would make it one of the largest financial centers of the world (on par with New York and London).
And it would give the Chinese government greater control over the yuan, which has been increasingly influenced by offshore markets. "There have been recent developments that have put Hong Kong's offshore market in the spotlight from time to time, such as its pricing of the yuan quite differently from the onshore market," a trader at a European bank in Shanghai told Reuters. "In this sense, the NDRC statement is published at a sensitive time and means the government once again wants to emphasize that it has the final say in the value of the yuan."
Why would China want greater control of the yuan? Well, we think China is secretly planning a major revamp of its currency... And it would cost Americans (both individuals and our government) billions of dollars. Our analysts have been studying China's currency moves for over a year, and they've produced an important special report you must read.
Click here
to learn more...
Regards,
S&A Research