Volatility is cheap.
It's hard to find bargains in the stock market these days. The S&P 500 is up 25% since bottoming early last October, and stocks have enjoyed a near-vertical run so far this year – despite numerous
caution signs
. There aren't a whole lot of investment choices available for bargain hunters.
And as the market has run higher, volatility has contracted.
The
Volatility Index (the "VIX")
,which serves as the market's "fear gauge," is down more than 50% over the past four months. The VIX was trading at 45 or so when the S&P 500 bottomed in October. Last week, it dropped below 17.50 as the S&P 500 bumped into 1,375 for the first time since last July.
But
as I wrote in January
– and I'll risk repeating myself here – the VIX looks ready to explode higher. Take a look at this chart...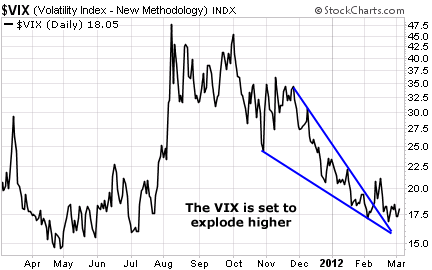 The VIX busted out of a falling-wedge pattern in February and made a violent push higher – gaining more than 20% at one point. But over the past few weeks, it has given back all of those gains as the stock market has persistently pressed higher.
This gives traders a terrific opportunity to buy volatility before it surges higher again.
You see... when a chart breaks out of a rising-wedge pattern, it makes an immediate and violent move to the upside. Then it often comes back down and retests the wedge's former resistance line – which now serves as support – before rallying again to an even higher high.
That is exactly what has happened with this chart of the VIX. The index broke the wedge to the upside. It exploded higher. And now it has come back down and is testing the former resistance line of the wedge. The odds favor a move higher from here.
On the downside, the VIX could fall to 15 or so – a three point drop from here – and invalidate the bullish pattern on the chart.
On the other hand, a bullish move higher could rally the VIX all the way up to 30 – a gain of 12 points from here. That may seem like an outlandish prediction. But keep in mind... when volatility expands, it happens fast. Just look at the move last July and August when the VIX nearly tripled in just six weeks.
From a trader's perspective, this is an ideal spot at which to buy volatility. It gives traders a chance to make 12 points, while risking just 3. That's a 4-to-1 reward/risk setup. And it's one of the best-looking trades in the market right now.
Best regards and good trading,
Jeff Clark