There's a massive boom taking place on America's highways... and it's going to make household names out of a few little-known energy stocks.
Yesterday,
I told you about Westport Innovations (WPRT)
, which has a near-monopoly producing natural gas engines for trucks and cars. It already has partnerships with just about every major engine and auto manufacturer in the world.
Over the past 12 months, shares are up nearly 200%. I believe the company could still triple from here. And it's not the only one...
With more trucks on the road running on natural gas, there is a massive rush to build new fueling stations...
According to the Census Bureau, there are over 100,000 gasoline stations in America. This makes it easy for the 234 million vehicles in the U.S. to fuel up. However, there are only about 1,000 natural gas fueling stations. Below is a map of their locations (in red):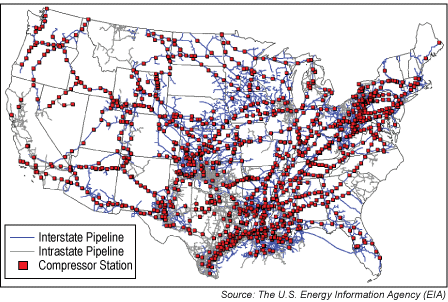 While most of these stations are strategically located across major trucking highways, thousands more will be needed to support entire trucking fleets running on natural gas.
Clean Energy Fuels is leading the charge. With help from natural gas-producer Chesapeake Energy, the company plans on building 150 new natural gas fueling stations. Half of these should be open by the end of the year.
Other natural gas producers have begun to open natural gas fueling stations. Integrys Energy and Questar are mid-cap companies that already operate natural gas fueling stations in the U.S. And they're building more.
Most of these companies are trading near their 52-week highs. Business is booming right now. Some states are beginning to provide incentives for companies to build new gas stations supporting the clean fuel.
Once these new fueling stations are built, there's a strong possibility auto manufacturers like GM, Ford, and Toyota will begin making cars that run on the clean fuel. After all, these manufacturers already make vehicles that run on natural gas in other countries.
We are still in the early stages of the natural gas infrastructure trend. In other words, investors can still cash in on this trend by investing in some of the companies building "America's Natural Gas Highway."
More to come tomorrow...
Good investing,
Frank Curzio