Transportation stocks are in trouble.
The Dow Jones Transportation Average has been moving steadily higher over the past few months. But in the process, its chart has morphed into a bearish rising-wedge pattern.
The Transportation Average quietly broke down from the pattern last week... But given the resiliency of the overall stock market, it managed to hold up fairly well. Until yesterday, that is...
Yesterday, the Transportation Average fell more than 2% – suffering more than twice the damage of the S&P 500 or the Dow Jones Industrial Average. And by the look of the chart below, there's more suffering to come...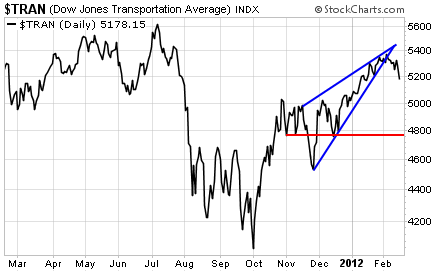 The pattern projects a move down to 4,800 or so. That's a loss of roughly 8% from yesterday's closing price.
We also have this overbought condition on the transportation sector bullish percent index (BPTRAN)...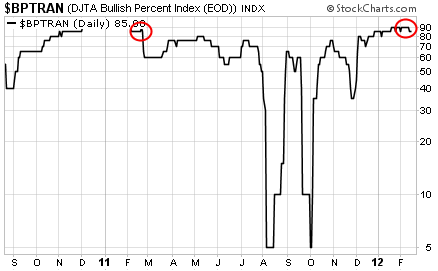 A bullish percent index measures overbought and oversold conditions for a sector. A sector is typically overbought when the bullish percent index rallies above 70... and it's oversold when the chart drops below 30. "Sell" signals occur when the chart runs into overbought territory and then turns lower. As you can see, the Transportation Average is on the cusp of a sell signal right now.
The BPTRAN flashed a sell signal right about the same time last year as well. That signal led to a swift 6% drop in the Transportation Average in just two weeks.
It looks like we're set up for the same action this year.
Yesterday's selloff may have been the start of the short-term correction I've been predicting. If that's the case, the transportation sector is poised to lead the market lower. Aggressive traders can look to short names in the sector with a plan to take profits as the Dow Jones Transportation Average approaches 4,800.
Best regards and good trading,
Jeff Clark