One of the market's best "backdoor to Asia" plays is starting to take off...
Most people know the economic growth in emerging markets like Asia is much better than the growth in "old" developing markets like Europe and the U.S.
But what most people looking to invest in this growth don't realize is you don't need to buy a riskier Asian stock or mutual fund... not when you have "backdoor" emerging market ideas like Las Vegas Sands (LVS)...
Las Vegas Sands is one of the largest U.S.-based casino operators. It's been around for decades... and operates big casinos like the Venetian on the Vegas Strip. But Las Vegas Sands is much more of an "Asia play" than people realize...
The casino giant is one of the few gaming companies with a license to do business in Macau... a tiny island on the southern coast of China. Macau is the only place in China where gambling is legal.
Macau is the gaming capital of the world. By 2014, the area is projected to generate over $45 billion in gambling revenue. According to a report published by PricewaterhouseCoopers (PwC), that's about three times the size of Las Vegas.
Based on surging numbers in Macau, it's no surprise Las Vegas Sands reported huge fourth-quarter results two weeks ago. And after several attempts throughout the year, the stock has finally broken past resistance to reach new highs around $52 per share.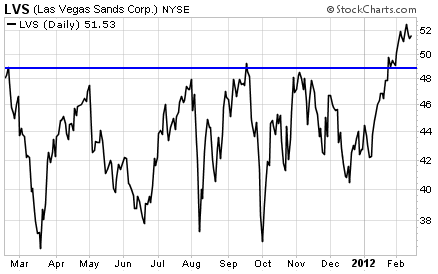 Based on this bullish price action, it looks like Las Vegas Sands has room to run higher. However, there is a much bigger story taking place here.
You see, Las Vegas Sands is no longer just a Macau story. The company opened a huge casino in the Asian city-state of Singapore in July 2010. Singapore is already one of the world's great financial capitals. It's also widely considered the next Macau. In 2010, the area produced no gambling revenue. By 2014, PwC sees gaming revenue approaching $8 billion.
The new casino is called Marina Bay Sands Singapore. In its first full year of operations, the site generated $1.5 billion in EBITDA (earnings before interest, taxes, depreciation, and amortization) for Las Vegas Sands.
To put that number in perspective, Las Vegas Sands spent $1.5 billion in total to build its Venetian casino in Las Vegas in 1999. Its new Singapore casino generated $1.5 billion in earnings in just one year of operation.
Singapore and Macau are not the only growth engines for Las Vegas Sands. Over the next few years, the company plans on building casinos in Japan, Vietnam, and South Korea. Based on the huge economic success in Macau and Singapore – following the opening of these huge casinos – it's just a matter of time before Las Vegas Sands breaks ground in these areas.
Turning to the fundamentals, Las Vegas Sands trades at 17 times next year's earnings. That's a large premium compared to its competitors. However, it's well-deserved.
Only 10% of operating profits actually comes from Las Vegas. That area is seeing the slowest growth among gambling sites. Most of its profits are generated from Macau and Singapore. Plus, Las Vegas Sands has its sights set on a strong Asian market that's in its infancy in terms of gaming.
I see profits growing at least 25% annually over the next two years. More important, the company should generate more than $3 billion in cash flow by 2013.
Las Vegas Sands just initiated its first dividend of $1 billion. That's roughly a 2% yield. Based on expected cash flow, the company could easily increase this payment to $2 billion (a 4% yield) by next year. That would attract a huge amount of income-oriented capital.
Considering the fundamental story and growth prospects, I see at least another 20%-plus upside in Las Vegas Sands over the next few months. Longer term, shares could push significantly higher if the company is able to expand its brand across Asia.
In sum, Las Vegas Sands is a classic backdoor way to invest in Asian growth. You get the "outside of the U.S." growth with "inside the U.S." rules and regulations.
Good investing,
Frank Curzio