If you need another reason to take Jeff Clark's advice and
stay short-term cautious
toward stocks right now, today's essay might convince you...
You just have to remember that markets are like runners. They can't sprint flat-out for miles without taking a breather from time to time. And since the start of the year, stocks have sprinted...
So far in 2012, the benchmark S&P 500 has climbed 7.5%. This is nearly a year's worth of returns in just over a month. This surge has left the market "overstretched"... and vulnerable to a sharp short-term correction.
To get an idea of how stretched the market is right now, have a look at the chart below. It displays the past 12 months of trading in the benchmark S&P 500. Note the extra "pane" at the bottom. This pane shows the market's "RSI"... an indicator that measures an asset's "overbought" or "oversold" status.
An RSI reading over 70 means a market is overbought and due for a correction. An RSI reading under 30 means a market is oversold and due for a natural rebound. In other words, a market with a high RSI reading is a rubber band stretched to the upside and ready to snap lower... a market with a low RSI reading is ready to snap higher.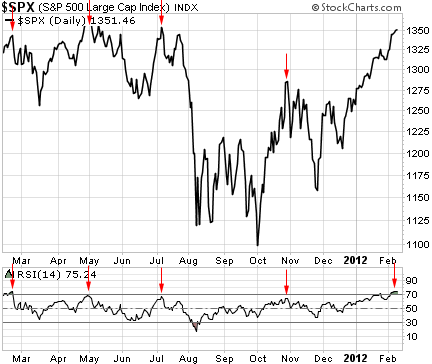 As you can see, the stock market's RSI reading is as high as it has been in almost a year. Each time stocks have gotten to this "overbought" level, they've suffered sharp short-term selloffs.
Realize... this is a trader's concern, not an investor's concern. It's no cause to sell any long-term investment like a good dividend-paying stock.
But if you're considering putting on any long-side trades now, it's worth keeping this "overstretched" condition in mind. With the market in this position, a 3%-5% correction down to around the 1,300 level is a chip shot.
Regards,
Brian Hunt