Keep an eye on the price of silver. A short-term pullback here could lead to monster gains later this year. Take a look at this chart...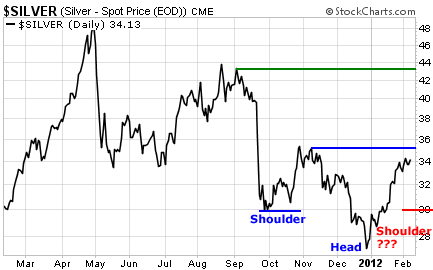 Silver is about 20% higher now than
when I said to buy it
last month. It is approaching resistance, and it's a good time for traders to take some profits.
But if this chart pattern develops as I think it will, silver could hit $43 per ounce later this year. Let me explain...
While it's too early to say for sure, this chart could develop into an inverse head and shoulders (H&S) pattern. This is a bullish pattern that often leads to an upside breakout.
The left "shoulder" formed when the silver price collapsed last October. The bounce that followed ran into resistance at about $35 and established the "neckline" of the pattern. Then, silver dropped to a lower low in late December and the pattern formed a "head" at about $27.
The bounce since then has rallied the price all the way back up to the resistance of the neckline. To form an inverse H&S pattern, we need silver to pull back and form the right shoulder at about $30 per ounce. To maintain symmetry, the pullback should take about one month.
That will be the time to start buying silver again.
If silver can hold support at $30 and form the right shoulder of the pattern, any future rally back up to the neckline is likely to break out and lead to sharply higher prices. The distance between the head and the neckline measures about $8. So a break above the neckline projects an $8 move higher to $43 per ounce.
Obviously, there are a lot of "ifs" to this scenario, and it may not play out this way... But if it does, this is how I plan to trade silver: take some profits here, look to buy in again near $30, and then hold on for the ride to larger gains later this year.
Best regards and good trading,
Jeff Clark