You see, at the time, markets all over the world were stuck in stupendous downtrends. Brazil's Bovespa, China's Hang Seng, and India's Sensex were all more than 25% below their highs.
But eventually, I explained, busts like that turn back into booms...
Be patient. Every new bull market [in emerging economies] produces dozens or even hundreds of triple-digit gains for investors. The next one simply hasn't started yet.
Today... I think "the next one" is here...
"
Emerging markets
" are countries whose economies are still catching up to the U.S. and Europe. That means there's still a lot of growth ahead for even basic businesses like telecommunications, construction, and transportation.
Even so, they suffered a brutal year last year. Chinese stocks were the best-performing major emerging market in 2011... with a 19% loss. The worst was India. Indian funds such as IFN fell more than 45% during 2011.
Two months ago, when India released its economic data, the headline read, "India's economy slows to weakest pace in more than two years." In December, India's index of industrial production – a key economic number that measures output from multiple sectors – turned negative for the first time since June 2009.
The numbers sound bad... until you realize India's economy is still growing at a 7% annual rate.
The same goes for emerging markets like China and Brazil. Both economies slowed during 2011. But both are still growing faster than developed areas like the U.S. and Europe. China's economy grew by about 9% last year. Brazil's growth was above 3%.
And now, the governments of these nations are starting to boost their slowing economies. Brazil began lowering interest rates almost six months ago. In December, the Brazilian government unveiled a set of tax cuts aimed at boosting demand for everything from food to appliances.
Less than two weeks ago, the Reserve Bank of India lowered reserve requirements for Indian banks, which will free more money to flow into the economy. If the economy doesn't pick up, I expect interest-rate cuts in India as well.
These are the same "loose money" policies that have goosed U.S. asset prices. And they're having the same effect abroad...
In January, India's manufacturing sector grew at its fastest rate since the first half of 2011. Similarly, Brazil's December industrial production rose the most in seven months. And as you can see from the chart below, emerging market stocks are starting to recover.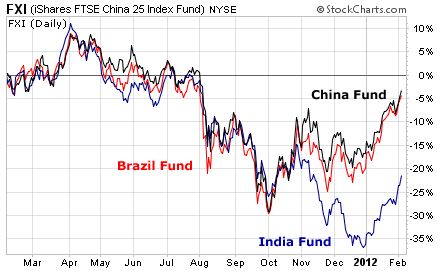 Keep in mind... there's still plenty of pessimism about emerging markets. Just last week, Reuters ran a story titled "Worst yet to come for China growth." But the uptrend is in place.
Back in October, I shared a handful of dominant emerging market companies. This list featured many elite "trophy" stocks of the emerging market group. I told you, "The safer bet is to watch these high-quality companies and wait for the uptrend to start. There will be plenty of upside left... and much less risk."
Those stocks are up an average 22% in four months. And their home markets are moving back into boom mode. There's plenty of room to run.
Good investing,
Larsen