We are halfway through earnings season. The biggest surprise so far was Amazon's terrible fourth-quarter results.
On January 31, the online retailing giant reported earnings of $0.38 a share. This was better than analyst estimates. But sales came in at $17.4 billion. That was much lower than estimates of $18.3 billion. More importantly, Amazon reduced its expectations for sales numbers for next quarter.
While shares are already down about 30% from their highs, I still see more downside...
After Amazon announced its bad news, shares pulled back 8%. Before reporting fourth-quarter results, it looked as if Amazon was about to break above its 200-day moving average (blue line), a simple trend indicator. Now, shares are trading near a 10-month low.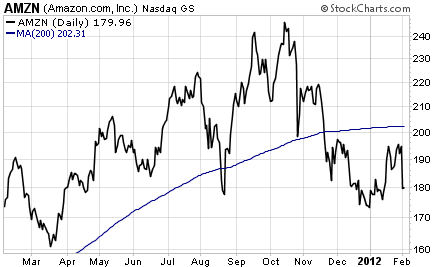 Looking at the fundamentals, Amazon is projected to earn $2.85 in 2013. Based on this number, Amazon is trading at 63 times next year's earnings. Despite this lofty valuation, not one of the 33 analysts who cover Amazon downgraded the stock following its weak results.
In fact, the average target price on Amazon is $240 per share. That's 33% higher than the current price. Unless the S&P 500 jumps 25% from here, I see little chance of Amazon reaching this target. And its level suggests that expectations are still high for the company...
But Amazon's huge growth potential is dependent on sales of its Kindle and Kindle Fire tablets. These devices are similar to a tablet. You can surf the web, read books electronically, or e-mail you friends.
During Amazon's recent conference call, management said, "We are grateful to the millions of customers who purchased the Kindle Fire and Kindle e-reader devices this holiday season, making Kindle our bestselling product across both the U.S. and Europe..."
Despite being its bestselling product, sales fell significantly short of estimates. Investment firm Goldman Sachs expected Amazon to sell 13.9 million Kindle and Kindle Fires, 24% less than Goldman's estimate.
I believe the weakness is due to competition. Amazon's Kindle products compete directly with Apple iPads. Apple just reported its quarterly results. The computer giant sold 15.4 million iPads over the past three months. That was 1 million higher than consensus estimates.
Electronics accounts for a significant portion of Amazon's overall revenue. Based on past results from Best Buy and Radio Shack, sales of electronics – like mobile phones, personal computers, flat-screen televisions, and video games – have been terrible. The only electronics that are selling right now are Apple products – and that's Amazon's biggest competitor.
I see more pain ahead for Amazon. Expectations are sky-high. The stock is crazy-expensive. Consumers are buying iPads instead of Kindles. Plus, sales of Amazon's biggest moneymakers are slowing.
Good investing,
Frank Curzio