Japan was on a nuclear mission.
In the early 1970s, the country made it a national priority to increase usage of nuclear power. It started its nuclear program with two reactors. Some 40 years later, Japan has more than 50 main reactors, providing about 30% of the country's electricity.
By 2013, Japan wanted to increase its nuclear capacity for electricity to at least 40%.
This all changed in March 2011, when a major earthquake and tsunami caused a meltdown at Japan's Fukushima Daiichi nuclear plant. Nearly one year later, experts are still working to shut down radiation leakage at the site.
The nuclear disaster resulted in a complete shift in Japan's energy policy... and triggered a massive boom in a niche energy sector...
Japan has now shut down 80% of its nuclear capacity. In order to maintain electricity output, Japan is replacing nuclear energy with
liquefied natural gas
(LNG).
Japan has the third-largest economy in the world, based on gross domestic product. However, it does not have huge supplies of LNG. In the most recent quarter, Japan's LNG imports surged 12% from last year.
The country is now the largest importer of LNG in the world.
This huge demand has caused a spike in the price to ship LNG. That's great news for the LNG shipping industry – which has seen its "day rates" jump 50% in eight months.
Day rates are the amount of money charged per day for using a LNG vessel. In May, the average day rate for an LNG vessel was $90,000. Today, these rates have jumped to $140,000.
A big beneficiary of this trend is Golar LNG (NASDAQ:
GLNG
). With a fleet of 13 LNG vessels, it's one of the world's largest independent owners of LNG carriers. Since the disaster in March 2010, the stock is up over 120%, even after a sharp pullback this month.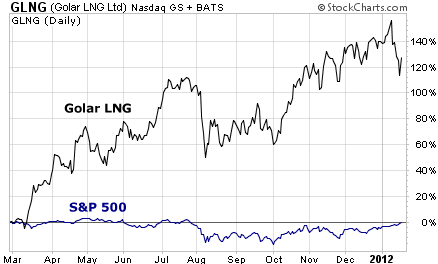 Golar is not the only player in the industry. There are others offering high yields that have not seen a huge price spike like Golar.
There is a limited supply of LNG ships, and day rates are still climbing. So these LNG-play shippers have huge upside.
LNG shipping is a booming industry right now, with no signs of slowing. I wouldn't be surprised to see 50%-plus gains for most companies in the sector over the next six to 12 months.
Good investing,
Frank Curzio