It has been a quiet 2012 so far. But we could be ready for some explosive action... starting this afternoon.
Big Tech companies Intel, Google, Microsoft, and IBM are all set to announce earnings after market close today. A big hit by any or all of these companies could be enough to power the S&P 500 back up toward last summer's high of 1,350. But a bad earnings miss could send the S&P 500 all the way down to 1,250.
One way or another, we're likely to see a big spike in volatility. It's exactly what we've seen the past two times Big Tech companies announced earnings right before January option expiration days. Take a look at this chart of the Volatility Index (the "VIX")...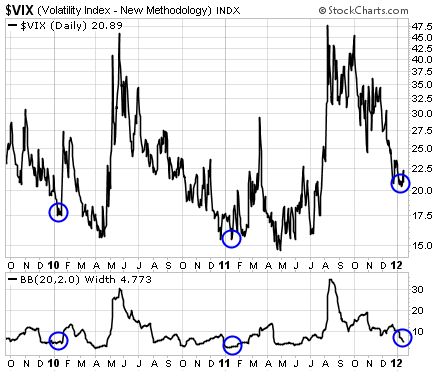 There are several things to take away from the chart. First, notice how volatility has been declining for the past several months. The VIX is the market's "fear gauge." When it's low, the market is calm and investors are complacent, indicating bullish sentiment in the market. When the VIX is high, traders are fearful. Today, the VIX is around 21 – which is less than half the level it reached last August.
Periods of expanding volatility are always followed by periods of contractions, and vice versa. Since the VIX has been declining for the past several months, it makes sense to be on the lookout for a period of expanding volatility.
The blue circles on the chart point to the action in the VIX during January expiration week for the last three years. Volatility expanded during 2010 and 2011... And we have a similar setup today.
Finally, the bottom graph indicates the width of the VIX Bollinger Bands (BB). Suffice it to say that when the BB width is high, the VIX is ready to enter a period of contraction. When the BB width is low – as it is now, and as it was in January 2011 and January 2010 – volatility is preparing to expand.
Expanding volatility is usually a bad sign for stock prices in the short term. So be careful not to get too caught up in the hoopla of the S&P 500 finally closing back above 1,300. By the look of the VIX, we may be back below that level over the next few days.
Best regards and good trading,
Jeff Clark