2011 is one for the history books. It was not a great year for many investors. The S&P 500 was down in seven out of 12 months, but rose more than 10% in October, recouping much of the loss. Stocks finished the year flat, with the S&P 500 off 0.003%.
In other words, stocks went sideways. Of course, it didn't feel sideways. From the early May peak to the early October bottom, the market dropped 22%. That's a big drop. After big drops like that, stocks usually go up. And they did. The S&P 500 rose more than 10% in October. If you didn't pounce in early October, you missed most of the move. But many of the world's best businesses are still selling at very cheap prices. Readers of Dan Ferris' 12% Letter recognize these businesses as World Dominating Dividend Growers (WDDG) – each is the No. 1 company in its industry and pays out higher dividends every year like clockwork.
For example, one of the stalwarts of our WDDG list is such a ubiquitous household brand name... we're virtually certain
every reader
has consumed one of its products at one time or another. Right now, it's trading at a dirt-cheap price-to-earnings ratio. Businesses this great aren't supposed to get this cheap. Dan recently updated his analysis of the stock and moved it to a "buy" rating. The market is making a huge mistake here, and he urged investors to take advantage of the situation before it corrects itself (which it's already starting to do). To get access to our list of World Dominating Dividend Growers, including the latest addition to it,
click here
.
The WDDGs did well in 2011. While the S&P 500 went sideways, the Dow Jones Industrials Average was up 6%. The Dow 30 contains several WDDG stocks. Also, almost all WDDGs pay dividends that rise every single year. The stream of rising dividends from these stocks represents the most predictable, safe profit trend individual investors will ever find in the stock market.
Going into 2012, you need to hedge your positions. In stocks, that means holding high-quality dividend-payers, like Coke and Altria, while shorting bloated growth stocks (look to Dan's
Extreme Value
World Dominator portfolio for ideas). Many of the high-yielding blue chips are frothy after huge gains last year. (McDonald's and Altria were up 13% and 35%, respectively, in 2011.) If you already own a portfolio of World Dominators, you can sell covered calls to boost your income.
Our favorite example of a bloated growth stock is Salesforce, which Dan shorted last April in
Extreme Value
. He wrote at the time...
Salesforce is so overvalued, no reasonable set of expectations could justify its current share price. At around 250 times earnings, Salesforce is priced to grow at exorbitant rates forever with zero risk of competition. Once upon a time, Salesforce was growing rapidly. The year it went public, 2004, sales grew 88%. Had it kept that up until the present, it would now be making $4.5 billion in sales. (Instead, it's making $1.55 billion a year.) It would almost justify its market cap of $18 billion, and would trade around 62 times earnings...
But 2005 was the last year Salesforce's revenue growth topped 80%. Though investor belief in it continues unabated, Salesforce's hypergrowth phase is a thing of the past. It's gone and it's never coming back. In fact, Salesforce's revenue growth has fallen every year since the stock went public in June 2004.
So the No. 1 reason to pay 250 times earnings for this stock is long gone. In order to justify Salesforce's price tag based solely on sales growth, it would have to return to its 2004 growth levels – and stay there for a few years without the stock price budging. I have to place the odds of such an occurrence near zero.
Many of Dan's World Dominators are hitting new highs. This week, Wal-Mart made the list. But his No. 1 short victim hit a 52-week low. Shares of Salesforce fell 4% this week after Sanford Bernstein's Mark Moerdler reiterated his "underperform" rating on the shares, noting the company's growth is slowing. Moerdler said Salesforce's core business of "customer relationship management," or CRM, fell from 40% growth in the first half of 2010 to 22% in the first half of 2011.
"To meet the Street's expectations regarding revenue growth, Salesforce is relying on acquisitions," Moerdler wrote. At today's share price around $100, Extreme Value readers are up nearly 30% on the short.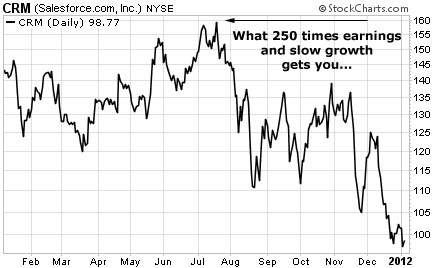 Another one of our favorite short targets – though far from a growth stock – Italy's largest bank, UniCredit, plunged nearly 31% earlier this week. In the November 2011 issue of
Stansberry's Investment Advisory
, Porter wrote...
I believe UniCredit has clearly reached this point [whereby creditors are refusing to lend to it at any reasonable price]. Its bonds are now trading at prices that indicate an eight-notch reduction in credit rating – prices at which the bank cannot hope to operate profitably. To raise desperately needed capital, it has organized a huge equity offering.
The problem is, it has little equity left to offer. On the company's balance sheet, you'll find $13.5 billion euros of "tax-deferred assets" – these are literally the value of the future tax savings UniCredit has earned by taking horrendous losses. They are worth nothing if the bank doesn't return to profitability. Likewise, the bank lists $11.5 billion euros of goodwill – an intangible asset that's worth nothing if the bank doesn't survive. That's $24.5 billion worth of assets that can't be traded or sold. Are they really assets? Only to an accountant.
The "huge equity offering" Porter wrote about happened last Wednesday... UniCredit launched a $9.7 billion rights offering (an offer made to existing shareholders, who are entitled to buy a set number of new shares at a set price over a specified time frame). This is a huge offering – over half of UniCredit's market capitalization. But here's the thing... The offering was priced at 1.943 euros, a 43% discount to last Tuesday's close. If you account for the value of the option to buy more shares in the offering, the offer is nearly 70% less than the shares' quoted price. Still, shareholders only took up 24% of the offering.
So Italy's largest bank can't obtain credit. And it can only sell 24% of the shares it's offering (to existing shareholders, nonetheless) at a near-70% discount. What do you think these shares are actually worth?
For proof of creditors' distrust of European banks, look at commercial banks' overnight deposits at the European Central Bank (ECB)...
Banks are constantly lending money to each other for short, set periods of time (most often, overnight). Banks are required to hold a certain amount of liquid assets at all times to insure against losses. At the end of the day, if a bank is short on funds, it will borrow that money overnight from another bank. On the flip side, some banks have excess liquidity (which is the case with some European banks following the ECB bailout), so they will lend that money overnight to the banks in need.
Deposits hit a record high of 453 billion euros ($591 billion) this week. This means banks are choosing the security of overnight deposits at the ECB (which pays 0.25% interest) over lending their cash on interbank markets (which pays 0.396%). So much for the ECB's $637 billion bailout last month...
Earlier this week, Jeff Clark told
S&A Short Report
readers that now is the best opportunity to trade gold stocks in the past three years. After the end-of-the-year rout in the sector, one of Jeff's favorite indicators dropped to its lowest level since October 2008 – one of the most pessimistic times in history for gold stocks. But after the indicator flashed "buy" (as it did this week), the average gold stock doubled over the next 10 weeks.
Take a look at this chart of the gold sector bullish percent index, which shows the past two times Jeff's indicator flashed buy (in June and October of last year)...
Gold stocks
rallied 20% over the following month in both instances...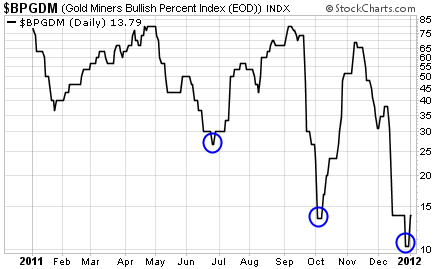 To play on this trend, Jeff is recommending one gold stock in particular. It's super-cheap – the stock's market cap is around $6 billion, but it has more than $21 billion of proven and probable gold reserves. And the stock has been crushed recently. He expects this trade to make up to 250%. To start your new trading year with a potential triple-digit winner,
click here
...
Regards,
S&A Research