In today's letter... some commentary about you, our dear subscribers. I've spent more than enough time talking about the underlying conflicts inherent in the financial system. I've spent more than enough time on self-deprecating criticism of the newsletter industry. And I've spent more than enough time criticizing both our political leaders and our corporate leaders. So today... I'm going to tell you a few things about our audience that I don't like. That's you. Prepare to be insulted.
Let me begin with two letters I received last week. Here is letter No. 1...
I'm certain that I will be among the thousands that hold up this essay [the December issue of Stansberry's Investment Advisory] as the most important thing ever printed from Stansberry & Associates. You have produced the clearest explanation of what has gone wrong with our country that I have ever read. It ought to be required reading by every citizen in the country... Highest compliments to you and thanks for your courage to say what must be said... – Paid up subscriber Bob Richerson
Bob... you couldn't be more wrong. I can't recall receiving more direct threats to cancel because of any newsletter I've ever written. Here is a sample of those responses:
I did not like the December Stansberry's Investment Advisory report at all. To me it was dripping with worthless crybaby stuff. Further, I feel this report was an end-of-year cop-out and I did not find it useful, insightful, or forward-looking whatsoever. Please understand, I did not expect to pay for spin or righteous indignation. If this is the best you've got, I will not be taking any future subscriptions. – Paid-up subscriber "Sid"
The fact is... anytime we deviate from a careful script (essentially publishing stock tips), it results in massive losses for my company, as subscribers demand refunds by the hundreds or thousands. I'm sure you think I'm exaggerating. But I'm not. You, gentle reader, have about as much patience and forbearance as a
honey badger
. And as they say, "honey badger don't care." (Fair warning: the satiric narrator in the linked video throws around a few profanities. Don't click if you're prone to offense.)
Anything we dare to publish that's not based solely around the objective of giving you information that you can use to immediately make money in the stock market results in stunningly vitriolic condemnation and waves of refunds. For those of you who appreciate our efforts to place our specific advice in a broader context... you now know why so few publishers bother.
I personally believe the issue I published is the single most valuable piece of my career. I spent hundreds of hours on the research. I have been writing that piece, in one way or another, for several months. Without this information, you cannot possibly understand the full ramifications of what's happening right now to our economy and our markets. That's why I gave permission for our subscribers to share it with their friends and neighbors. And yet... I can't recall ever receiving more direct threats to cancel based on any single issue. When serving your customers destroys your business, it puts even the most ethical businessman in quite a quandary.
Gentle readers... please... allow us to serve your interests in a broad way, to give you the fullest explanations we can provide. It is not always the right time to buy a new stock. And please, don't judge us so completely by any one issue or investment idea. Remember, we will certainly be wrong and far more often than we'd like. You will not always agree with us. And we shamefully admit that not every issue we publish will be worth the price you've paid for it. No one bats a thousand. So we humbly request that you judge us by the sum of our efforts. Have we improved your understanding of finance and investing? Have we helped you to improve your results?
Another thing that drives me nuts about you, gentle reader... your never-failing ability to condemn our work in the face of any particular adversity. Consider this recent note...
Great job Porter. NOT! Thanks Porter for recommending buying gold at $1850. I remember your famous words then... 'Hurricane insurance gets a lot more expensive when a storm is off shore.' Also, thanks for the ATVI pick. Down 15-20% in the past weeks. And let's not forget last month's shipping pick that you retracted before the ink was dry. Keep talking up the First Solar pick... and maybe bring up you other great picks of the past. Because you are straight horsesh*t now! – Paid up subscriber Stuart Nichols
This is a classic letter in several ways. First, it's simply wrong on many of the facts. Activision's shares (ATVI), for example, are down about 8% since our recommendation. That amount of volatility, given the general market conditions, is normal.
More important, though, it completely misses the entire value of the analysis we offered. We explained why Activision is supremely capital-efficient and how shareholders should see more than 10% annual returns even if the stock doesn't move at all, thanks to dividends and share buybacks (that will eventually push the share price higher).
Likewise, the comment about gold simply makes me chuckle. We have been "pounding the table" on gold since late 2008. In the issue I titled "The End of America," I wrote...
The coming great inflation will destroy America's economic leadership. It will lead – eventually – to the return of settling international obligations in gold instead of paper dollars. And this will happen much faster than anyone expects. By the time Obama leaves office... The price of gold will be well over $2,500 per ounce... Americans haven't experienced anything like this since the Great Depression...
The best way to protect yourself is to own gold bullion – plain, regular gold coins. The premium on these coins is moving higher over the spot price of gold. – Porter Stansberry, Stansberry's Investment Advisory, December 2008
And what's happened with gold since? It's gone from around $750 to more than $1,800. Now, it's pulling back. See for yourself...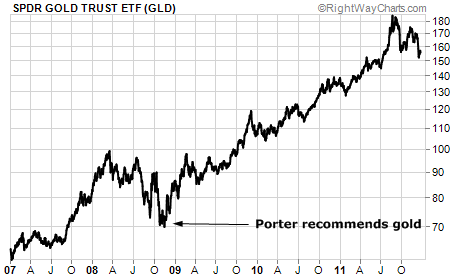 I suppose the reader thinks we ought to be ashamed to have been recommending people "buy gold" at $1,800. But the fact is, that's not what we recommended at all...
What we said, beginning in the February 2010 issue of Stansberry's Investment Advisory, and what we've reiterated regularly since (in the March 2011 issue, for example) is that, unless you're able and willing to hedge your positions through short-sells and trading, you ought to position yourself 50% long gold and 50% long Treasurys. We did so explicitly because we thought gold had gotten too expensive relative to many other commodities. It was bound to pull back sooner or later.
And then... the pi
è
ce de r
é
sistance... the subscriber dismisses my First Solar short, as though it's the only thing I've ever gotten right and therefore must have been blind, dumb luck. You're free to make your own judgments. But if someone out there has been more steadfast or offered more concrete proof about the coming failure of a business in the last two or three years, I haven't seen it.
I recommended shorting First Solar on three separate occasions, beginning in January 2008 at more than $200 per share. Every single point I made about the inevitable decline of the business proved to be precisely accurate. I even went so far as to spend an entire letter explaining why the physics – the thermodynamics – of the technology didn't work and were unlikely to ever produce on-grid power for any reasonable price.
My work gained praise from a physics professor at Stanford, by the way, who was also one of Intel's key Pentium designers. The point is, with the stock now down almost 90% from my first short recommendation... with the entire business model in complete disarray (thanks to the decline in subsidies, as I predicted)... and with the physics of the technology now under fire, you'd think subscribers might send a small note saying "thanks." Nope. Instead I get, "You're straight horsesh*t now." Thanks for that.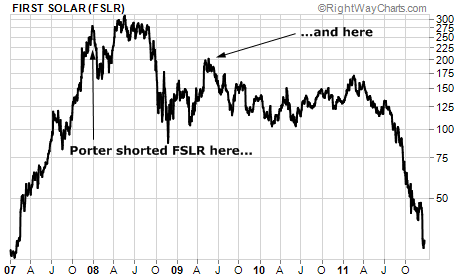 One more thing... about our "slimy" advertising. Here's a note from paid-up subscriber Edward Jacobs...
You're motto is a good one: "tell us the info you would want to know if our roles were reversed." However, it's diminished when not used alongside: "treat your customers with respect and integrity." I think you fail in this every time you produce one of your terminally long and hyped videos selling some service...
If you were an honest businessman who wanted to be paid fairly for the great research you do, you'd offer membership at $9,000 and tell us to buy this coin in one of your investment letters. Instead you play off people's greed with this gimmick...
You offer insightful, novel, and detailed research that I think is worth buying. However, I'm skeptical to buy more due to your slimy advertising. If your product is as good as you say it is, don't use tricks to sell it, use the results. And I will never watch another one your boring videos again. BTW, loved your bantering with folks over SS. A fan of your product but not of you.
We sell independent, sophisticated, thorough, and profitable financial research to the public for
incredibly
low prices. Our basic subscription services begin at just $49 per year and include three free daily e-letters – all of which are unanimously ranked by our peers as the best that are published anywhere.
To ensure actual independence, we don't allow our analysts to buy the stocks they write about. We serve no one but you – unlike just about everyone else in the financial sector. There's not a single conflict of interest in our business model. Compared to similar services via hedge funds or even mutual funds, which are frequently rife with conflicts, our strategic advice is stupidly cheap and totally honest. It represents an outstanding value to anyone who wants to manage his own financial affairs.
So... how do we do this? How are we able to offer such high-quality products – which our customers love – without any conflicts of interest and at rock-bottom, dirt-cheap prices? Just think about it for a second. I'll give you a big hint: It's because of our "slimy" advertising.
Our business model works because we sell lots of subscriptions – lots of them... every day... all the time. And do you know how we do that? By sending you advertising... lots of it... all the time. And do you know how we decide what kind of advertising to send? We employ dozens of marketing professionals who analyze every single purchase you make and then design our advertising around what's generated responses.
We spend lots of time and lots of energy making our advertising as compelling as it can possibly be because that's how we stay in business. That's how we earn the budget necessary to hire the best analysts... send out the best reports... recruit the new analysts we need to continue growing our company... and hopefully, make as big of an impact as we can in the world of financial ideas.
Regards,
Porter Stansberry