Picking stocks is no easy task these days.
European debt problems are certain to escalate in the months ahead. China's growth continues to slow. Higher energy prices and tax hikes will likely hurt consumer spending next year. And judging by the latest comments this week from bellwethers Intel and Best Buy, margins in the U.S. are beginning to contract.
Even with the difficult year behind us and all the uncertainty ahead, one sector is sure to outperform over the next 12 months.
I'm talking about discount retailers.
I've talked about discount retailers like
Dollar General
and
Costco
over the past few months. These companies have easily outperformed the S&P 500 index since I last wrote about them.
In fact, both stocks are trading near their 52-week highs.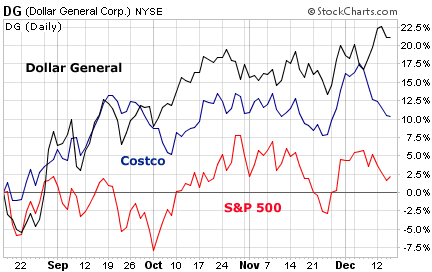 Dollar General is opening stores at a rapid pace. The company just announced a huge buyback of its shares and record quarterly results. Billionaire investor Warren Buffett also opened a new position in the company last quarter.
Costco just reported its fourth-straight quarter of rising profits. More than 80% of its earnings are based on membership sales – which were super-strong last quarter.
If you believe we've got a rough economic patch ahead, discount retailers should have another banner year. These are the places consumer-strapped consumers shop during tough times.
Based on the current landscape of the economy here and abroad, these stocks should continue to outperform the markets at least over the next 12 months.
Good investing,
Frank Curzio