Fair warning... Today's advice is dangerous.
The ideas in this letter could result in large losses. They could cost you your home... or your marriage. Maybe even your life. That's right. People kill themselves because of the ideas I'm about to share with you. They are dangerous. I'm not kidding...
A security guard found him. He was sitting behind the wheel of his yellow Hummer on the third level of a Dillard's parking garage at the huge Memorial City Mall in Houston. On October 22, 2008, he'd put a 12-gauge shotgun in his mouth and blown off most of his head. His name was Robert Chaney. He was perhaps the most successful Texas wildcatter of his generation. He founded Paramount Petroleum Co. in 1986, just as the oil business was emerging from the horrendous bear market of 1985.
From 1989 to 1993, Chaney made 30 major oil and gas discoveries – some of which were very large. He sold the firm shortly thereafter and began collecting contemporary art, becoming one of the top collectors in the entire world. He also founded a new company, R. Chaney & Co., which was a major investor in junior gold stocks. Although I didn't know Robert Chaney personally, my friends in the oil and gas industry did. He was no fool.
He also wasn't the only smart man who killed himself that week. Three days later, on Saturday, October 25, Karl Hill also shot himself. Hill was an exceptionally well-educated small-town banker from Monroe County, Georgia. He knew enough about economics and finance to understand what was going to happen to the U.S. dollar as our country's debts began to balloon after September 11, 2001.
He knew gold was going to soar. So he built a huge position in Canadian
junior resource stocks
, beginning in late 2001. These stocks offered him the most amount of leverage to the price of gold. By 2005, Hill made an incredible fortune. I came to know his story because he was a regular guest speaker at the most prestigious investment conference in New York each spring. His death shocked me... It was completely unbelievable.
Two days after Karl Hill's death and five days after Robert Chaney's death, the AMEX Gold Bugs Index put in its most recent multiyear low, 151. If they had waited even a week to pull those triggers, they would have seen their fortunes rebounding rapidly – and they most likely would not have killed themselves. Within six months, almost all the losses completely reversed.
As you can see in the chart below, the bull market in gold and junior mining stocks continued as if nothing happened in the fall of 2008. Within a year of the men's deaths, junior gold stocks were trading at new all-time highs – as was the price of gold itself.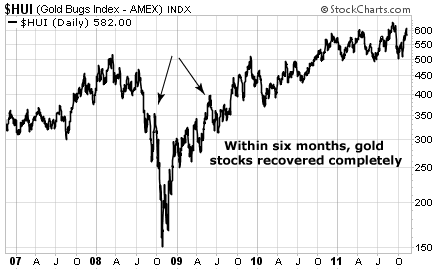 These two suicides convinced me we'd seen the bottom in stocks by November 2008. I wrote about the men's deaths and explained why they signaled the best opportunity in a decade to buy these kinds of stocks. While the broad stock market didn't bottom until the following March, junior resource stocks never breached their late-October/early-November lows. The bottom was in.
I repeat this story today because I want you to understand how serious the risks are when you're investing in extremely volatile, deeply cyclical parts of the stock market. That's the focus of today's essay
.
I honestly believe this kind of investing is completely inappropriate for a lot of people – maybe even 90% of our readers. And I know it can be deadly for some people. So if you have a gambling problem... or if you often find yourself taking crazy risks with your investments just for the thrill of doing so... please, stop reading immediately.
I am completely serious when I say this to you: These ideas could destroy your wealth. They could ruin your life. And they might even cause your death. I'm not exaggerating the risks.
So... why would I write about these kinds of stocks? You might recall
the recent essay
where I explained why most individuals shouldn't buy stocks at all – ever. On the surface, it seemed a strange essay for me to write. But as you read it, I'm sure you saw my real purpose – to help you make better, safer decisions with your savings.
Our primary goal at Stansberry Research is to make rich people richer by helping them become better investors. We teach our readers how to value stocks and bonds. We explain the importance of allocating to value. We give our readers a "toolkit" so they can increase the income from their portfolios, minimize their losses, and from time to time, make great long-term investments. Most of all, we warn people about the risks they face from overvalued stocks, currency depreciation, and Wall Street's latest con.
What we don't do is promise to make poor people rich.
We don't do that because it's almost impossible to achieve. Let's face it: The odds that you'll end up buying the right stock with enough of your portfolio to matter (assuming you're poor) and then have the guts and the foresight to hold on to it for 10 years, while it increases thousands of percent in price, is just about nil. It's not going to happen. You will
never
get rich trying to buy the one stock that soars 5,000% in four years.
Well... almost never... Because you see, it does happen from time to time. And there are ways of greatly increasing the odds that it will happen to you.
That's what today's essay is all about – how to actually become rich (not merely richer) with common stocks. I'm going to show you what I know about how to
get rich – really, really rich – with stocks
. It's not as hard as you probably think it is. It does happen. Some people have figured out how to do it regularly. And they do it time after time after time.
There's only one problem. It's extremely risky. If you're not good at limiting your position sizes and you're not able to trade in a contrarian style (buying when everyone else is selling), you will get killed... some of you even literally. This kind of investing should only be attempted by people who are centered emotionally, fanatically disciplined with their investments, and prepared to suffer total, 100% losses in these positions.
I've seen people make a lot of money in small tech stocks (including biotech), currency trading (because of leverage), and junior gold stocks. These are still the three areas I'd pursue if I wanted to make my living as a speculator. They offer plenty of opportunity, in terms of high volatility.
To be successful, you have to make sure you're buying at or as close as possible to a major bottom. Then, you have to really know what you're doing because you'll have to survive tremendous volatility. That's extremely difficult to do unless you've dedicated your life to understanding those markets. Any steps you take decrease the volatility (like trailing stop losses, for instance) will greatly reduce your returns. In these markets, the excess returns you make are caused by the volatility.
I still believe the best sector of the market to focus on, if you're trying to get rich, is junior resources. It's much easier to understand than the tech sector and doesn't require you to use any leverage, like currency trading does. The junior resource sector routinely crashes 75% or more and routinely soars 500% or more. Dozens of individual stocks in the sector can go up by more than 1,000% in any given year.
I know more people who have made more money in these kinds of stocks than in any other sector of the market. But... as I pointed out with the stories above... these stocks are incredibly volatile. And if you are too exposed to them, they can kill you.
If you'd like to get involved with these stocks, I strongly recommend you do two things. If you do both of these things, the chances are good that you'll succeed – much better than 50%. Here's what I recommend you do...
First, learn as much as you can about basic geology of current leading "plays." What happens with these stocks is that one company will find a big deposit. Then, a handful of other companies will stake claims and make discoveries. These areas are known as "plays" – areas currently being heavily prospected.
You want to find 10 or 20 companies that own property in the best current plays. It's impossible to know which of these stocks will produce the big mine or the huge discovery... But one of them will.
The second thing I strongly recommend is that you learn to wait to buy until there's some kind of major blowup in the sector – like the kind we saw in 2008. It's extremely important that you understand the range of values these stocks trade in – they're typically huge. You have to make sure you're buying in the bottom 25% of that range. Or else... you'll get wiped out.
Buying these kinds of stocks when they're crashing is extremely difficult to do emotionally. Most people simply can't do it. That's why it's a great opportunity for the folks who have the discipline. The way to develop that discipline is to follow these markets, year after year. Get to know the major plays. And get to know the stocks.
Yes, all of that takes time. Did you think it was going to be easy to make 10-to-1 returns? It's not. It never is. But these stocks offer you the best chance at getting those kinds of returns. You typically see at least two major bull moves in these stocks each decade. Learning to wait for them... and then having the guts to buy near the bottom... is all it takes to make a fortune in stocks.
If you want to get started, I strongly recommend you read Matt Badiali's
S&A Resource Report
and his
S&A Junior Resource Trader
. Matt is a great geologist, and after writing his letters for years, he's gotten to know all of the major players in the industry. He knows about the best plays. He knows the best stocks. And right now, you can get a full year's subscription to Matt's
S&A Junior Resource Trader
and his
Resource Report
– along with some of our best advice on buying silver and silver stocks – as part of a special deal we're running for the next week or so.
If you put Matt's fundamental research together with the discipline I mention above, I'm certain you can take $10,000 or $20,000 and turn it into more than $1 million over a decade. All you have to do is wait for the market to collapse, then know which of the stocks to buy during the panic. To learn more about the special deal we've put together on Matt's research – and more –
click here
.
Regards,
Porter Stansberry