Over the past few weeks,
Growth Stock Wire
readers have seen a lot of "
get ready to buy
" essays.
Last week, the technology sector finally pushed into "buy mode." And over the last 10 years, this signal has been good for easy, double-digit gains.
For the first time in three months, the big tech fund XLK crossed above its 200-day moving average.
Moving averages are a simple way to track market trends. A sector or asset is considered to be in a bull market as long as it holds above its average. And trend traders use it to trigger buy and sell signals.
In the chart below, you can see that tech stocks often stay in "bull mode" for months after crossing above their moving average.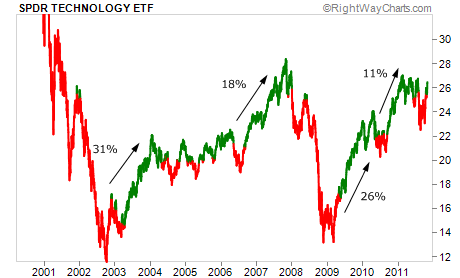 As you can see, the tech sector hasn't done much over the past decade. In fact, investors who used a "buy and hold" strategy 10 years ago have lost money during that time. Meanwhile, investors who bought after the tech sector moved above its 200-day moving average scored solid gains while avoiding the big losses in 2001 and 2008.
That's why the latest surge is such an important moment for investors. Investors who were waiting for the "green light" now have it.
There's no guarantee that the recent stock market rally will continue. However, the XLK fund is full of big, dominant companies such as Apple, Microsoft, Google, and Intel. These stocks mostly avoided the major declines that crushed smaller, speculative stocks over the past few months.
More important, the recent move higher came during earnings season. That means investors got a first-hand glimpse of how well these companies are doing in a sluggish economy.
For example, Google's results included a surprisingly strong 28% revenue growth versus last year. Apple sold 17 million iPhones and 11 million iPads during the last three months. As I noted last week, even "stodgy"
Intel grew earnings well above expectations
.
I know "dumb" trend systems like buying an asset when it moves above a 200-day moving average and selling it when it moves below it aren't supposed to work. But as Steve Sjuggerud has shown us many times (
most recently here
), it's often this simple to generate large, safe trading gains.
The market is incredibly volatile right now. And the uptrend in tech stocks might falter. But as long as the XLK remains above its 200-day moving average, you have a cheap group of stocks with positive price action... which is a great place to make money in the market.
Good investing,
Larsen