Here's something you've never read before in an investment advisory:
Most people shouldn't buy stocks. Not ever.
I normally take the opportunity in these pages to show you something about finance that I believe is valuable, but you probably won't read anywhere else. Today's message is particularly important.
I'd like to show you why you're extremely unlikely to succeed as an individual investor buying stocks
.
As a purveyor of financial newsletters, which are mostly purchased by individual investors, the worst thing that could ever happen to my business would be the widespread realization that stocks, by and large, are a sucker's bet. So why on Earth would I write an essay explaining why this is so? It doesn't make sense unless you understand my sincere desire to help people become better investors. I am committed to my promise to always tell you what I would like to know if our roles were reversed. That's what these are really all about.
However... today's message comes with a big caveat
.
Doing well in stocks isn't impossible for individual investors. It's only
extremely
unlikely. Let me show you how I know. And more important, let me show you why. Once you know why most people don't make money in stocks, you'll have a vastly better chance of being successful.
So... how do I know most people shouldn't ever buy stocks?
Look at the average outcomes of real individual investors
. Give your accountant a call. Ask him how many of his clients who actively buy and sell individual stocks make money in most years. Accountants are the only folks who really know if their clients make money in stocks or not, because investors don't talk about their losses. The guys in your weekly poker game talk about their good trades... not the bad ones. And as real investors know, it only takes one big loss to wipe out an entire year of gains.
Your accountant will probably tell you what my accountant tells me: Porter, you're my only client who actually makes money in stocks. All my other clients get killed.
The second way I know that most people don't make money in stocks is by looking at mutual-fund results. Dalbar is a consultancy that studies actual investor returns in mutual funds. It found that individual investors consistently buy popular mutual funds that have
already
experienced great results, while ignoring funds that haven't done as well. Thus, they end up buying funds full of expensive stocks, while ignoring the funds that own cheap, out-of-favor stocks. This
greatly
reduces average investment returns.
From 1990-2010, stocks (as measured by the S&P 500) did very well. They averaged 9.14% per year. But actual investors in mutual funds only earned 3.27% on average. That barely outpaces inflation. They would have done far, far better in bonds... or even in T-bills.
One more thing tells me that most investors get killed in stocks – my own trading. Take a look at this chart. It's the Nasdaq stock market from the fall of 1994 until today – a 17-year chart. I picked this timeframe because it covers the period I've personally been actively investing. I picked the Nasdaq because that's where most stocks that individuals like to buy are traded.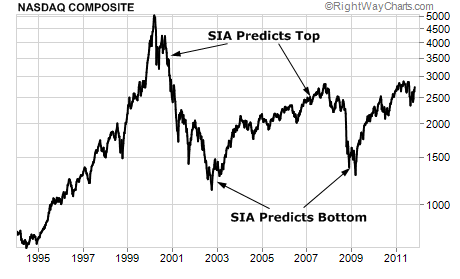 There are two obvious peaks (2000 and 2006) and two obvious bottoms (2002 and 2008). I know from studying mutual fund inflow data that individual investors were piling into stocks all during 1999 and 2000. I know they were bailing out in the fall of 2002. They got killed. I know individuals were buying mutual funds heavily again in 2006. And I know they sold in record amounts at the bottom in the fall of 2008. Again, they got killed.
"Easy to see in retrospect," you may say if you're skeptical. Yes, it is. But I saw these tops and bottoms in real time and wrote about what was happening. You can look at the archives and see what I wrote at the time. Read my newsletter from November 2000... you'll see that I predicted the bear market that developed in 2001-2002. Read my newsletter from October 2002... you'll see that I was able to call the bottom in stocks almost to the day. Likewise, if you read my letter from February 2007, you'll see that I called the top just six months before stocks actually peaked. In November 2008, the headline of my letter was "This Is It" – as in, "this is your best opportunity to buy stocks in a generation."
Finally... if you read my letter from last month, you'll see that I was even able to predict this mini-rally we're experiencing right now. How did I know? Easy. I watch mutual fund inflows/and outflows...
Our market indicators show us a significant rally in stocks is likely. In particular, our Money Flow Gauge reveals mutual-fund outflows have grown big enough to be significant. The volume of selling is roughly equal to what we saw near the bottom in 2002. Add to that the Black List has dwindled to only a handful of high-quality names and the spread between high-yield bonds and Treasurys is surging. That tells me unless the situation in Europe boils over immediately, we will almost surely see a 20%-30% rally in stocks to end the year.
In my trading and market timing, I make money by doing the opposite of what I know most individual investors are doing with their money. That's how I know they're getting killed. But... why? Why do so many individual investors make spectacularly bad investment decisions? Why do they consistently buy at the top and sell at the bottom?
The No. 1 reason is simple: They have no idea what they're doing. I would wager 90% of all individual investors don't understand even the most basic concepts of finance or accounting. Most don't even know that nominal share price (whether a stock is trading at $10 or $100) has
nothing
to do with its value. That's why we have to constantly explain terms like "market cap" and "enterprise value" – nevermind that no one should ever buy a stock if they don't understand exactly what those two terms mean.
This lack of understanding implies that most individual investors have no capacity to judge the value of the stocks they're buying. It's like they're shopping for cars by looking at the gas mileage numbers instead of the sticker price. Imagine your neighbor bragging that he bought a car for "18 miles to the gallon." And imagine he didn't even understand why saying that makes no sense. Now you know how I feel when I talk to most individual investors. They literally have no clue.
(By the way... Market cap is the total number of shares outstanding multiplied by share price, which gives you the total value of all of the company's shares. This total market price – or "market cap" – is how you evaluate whether or not a stock is cheap or expensive, if it doesn't have outstanding debts. Enterprise value adjusts market cap by the company's total net debt. Enterprise value is the appropriate way to judge most company's actual market value, because it incorporates debt.)
If you don't know how to accurately value a security, you don't have a chance. None. And because most individual investors can't act on knowledge and logic, they act upon rumors and emotions – essentially blind guesses. It's no surprise they generally do exactly the wrong thing at exactly the wrong time.
Do you fall into this category? Here's a simple test. What's the best and most accurate way to value most operating businesses? What's the primary difference between net income and cash from operations? Who decides what a company's dividend payment will be? What are the primary differences between common stocks, preferred stocks, and corporate bonds?
If you can't answer these questions off the top of your head, you should never, ever buy a stock. Not ever. (Answers: discounted future cash flows, depreciation, the board of directors; common stock provides voting rights, but no fixed dividend... preferred stock offers a fixed dividend but no voting right... bonds have guaranteed principal, fixed coupons, and senior legal claim to corporate assets in the event of bankruptcy.)
These are the big mistakes most individual investors make when it comes to stocks...
They don't know when to sell, so they sell at the bottom.
They don't know how to value stocks, so they buy at the top
They own stocks that are designed to fleece shareholders through constant dilution
They suffer catastrophic losses because they don't diversify and only sell when a stock collapses – the so-called "buy and fold" approach
They ignore income opportunities and thus don't enjoy compounding returns
They buy mutual funds that are horribly managed and sell them during market panics.
Here's how to overcome all these mistakes. All investors should follow the rules below, unless experience or particular expertise allows you to break these rules successfully. For example, you might pay more for certain growth stocks, but only if you're in the industry or especially familiar with a given company's prospects.
Otherwise, follow these rules. When you break these rules, you generally suffer...
First and foremost, you only want to allocate heavily to stocks when they offer good value. I believe stocks represent good value at or below roughly 10 years of cash earnings. Some stocks with great growth prospects might be worth a bit more. Some stocks that own valuable assets – like commodities in the ground or prime real estate – should be evaluated by replacement cost analysis, not cash earnings. But... generally speaking, 10 times cash earnings is a great place to start when judging value.
Next, you want to make sure that the stocks you're buying are reasonably capital-efficient. This helps make sure that as the company grows, it will have plenty of capital to return to its owners.
Speaking of which... make sure the companies you invest in are dedicated to returning capital to shareholders. Never buy a stock that doesn't pay a dividend, buy back shares, or both. Never, ever buy a stock that's constantly issuing new shares and diluting its shareholders, which is common. Apple, for example, has increased its share count by almost 50% over the last decade and has never paid a dividend. Common stock investors believe they own the company, but the management clearly believes otherwise. That won't have a happy ending.
Don't put all your eggs in one basket. I can't tell you how many times I've heard individual investors say, "What do you think about XYZ stock? I've got all of my savings in it." That's insane.
You want to spread your investments over a reasonable number of positions, because doing so greatly reduces your risk. We construct our S&A model portfolios using 16 different positions. There are four value stocks, four growth stocks, four income securities and four "macro" plays. We've had great success with this approach and I'd strongly recommend it to individual investors. It's enough concentration so you can have meaningful positions and enough diversification that you won't lose too much if you immediately get stopped out of something.
Always cut your losses. Whether you use trailing stop losses, fixed stop losses, or some technically based stop loss – whatever suits you. But always know when you're going to sell in the event that stocks go down. Using such discipline will slightly reduce your returns from year to year, as sometimes the stocks you sell end up rebounding. But such discipline is the only way to guarantee you won't suffer a catastrophic loss.
(Note: You should adjust your stop losses for cash dividends and share buybacks, which allow you to stay in companies that are returning capital even through bear markets. This can be tricky, as there are no firm rules for doing this... But my rule of thumb is, if I'm earning 10% a year from the shares via dividends, I'm much more reluctant to sell.)
Now... finally... the most important concept. What do you do when there aren't many (or any) high-quality companies trading at a good price? Make investments that allow you to generate income, so your cash pile grows. You want to build cash while you wait for a buying opportunity. It's really that simple. So how do you build a cash pile? There are two important concepts to learn.
First, you should get to know corporate bonds. I've written about corporate bonds many, many times in the past. The key to corporate bonds is buying bonds that offer you at least a 10% annual return via coupon payments
and
that offer plenty of protection in the event of a default.
This analysis isn't always easy to do, but here's a good rule of thumb. The average recovery in corporate bond defaults is $0.45 on the dollar. The closer to $0.45 you get, the less risk you're taking. If you're buying a diversified basket of bonds for less than $0.75 on the dollar on average, you've got a good chance of making a lot of money without losing any. Most of your bonds won't default. Instead, they will pay off at par ($1), giving you a 33% capital return in addition to yields that will average 10%-15%. Those gains will more than offset whatever losses your portfolio experiences because bonds don't typically go to zero like stocks.
If the average individual investor understood the bond market, he would never buy a stock ever again. If he understood that bonds are less risky, offer higher annual payouts, and frequently generate stock-like capital gains... He'd see there's simply no reason to accept the higher risk of the stock market.
Let me repeat myself: It's easy to put together a diversified portfolio of bonds that will pay you double-digit returns on average without producing an annual loss. For most investors, that's a far better return than they will get in stocks – without any real risk at all. That's why I urge our subscribers to read True Income, which is the only high-quality, independent investment advisory available about the bond market. Frankly... if you're not buying corporate bonds, you shouldn't consider yourself a real investor.
The other smart and easy way to generate income when there aren't lots of safe and cheap stocks is to use options. I recognize that most of you will not trade options. Just like most of you will probably never buy bonds. That's fine with me. You have to do what you're comfortable with... and do what you understand. But know this: You can make 5%-10% a month, nearly risk-free, in the options markets. You do this by
selling
options, not buying them.
Buying options is incredibly risky. It's a strategy that should be used mostly by professional investors to hedge against losses – insurance, essentially. Buying options is a cost of doing business for professional fund managers. Selling them those options is an easy way for us to generate large amounts of safe income.
How safe is selling options? Doc Eifrig, who has been showing the readers of Retirement Trader how to use options to generate safe income for the last several months has now closed out of 41 recommended trades. Every single one – 100% – of these trades were profitable.
I have written about the power of selling options several times before. The key to success is to sell put options only against stocks that you'd like to own at a price you're certain is safe and cheap. If you do, you can make 50% or more per year, without taking any real risk. This is hard to believe if you've never done it... But it's true.
And whether or not the option is exercised against you and you actually end up buying the stock, you always get to keep the premium you were paid in exchange for the option. Thus, your results will be either a lucrative income steam or a vastly lower entry price on a stock you wanted to own in any case.
Out of all of the things I've taught subscribers over the years, how to generate income with options is the most powerful technique. We've shown thousands of investors why selling puts is always superior to simply buying stocks. Once you really understand how this works, you will simply never buy a stock again. You will always sell puts instead. I just got a note this morning from a subscriber about his experience selling puts through the last crisis period...
Porter: Many thanks for convincing me that selling puts is a rational trading strategy. I sold about 31 different put options expiring on Oct 22. Because of volatility I had to buy six desirable companies which are now worth more than I paid... Your happy subscriber, Bob Roth
Here's the thought I'd like to leave you with... The No. 1 reason most individual investors fail is because they don't know how to value securities. As a result, they never know when or what to buy. If you want to be successful as an investor, you need to learn these basics, which we teach in all of our letters (and particularly in mine.)
To increase your odds of success even more, you need to learn how to minimize your risks and maximize your income.
If you ever come to our Alliance meeting or meet a longtime Stansberry & Associates subscriber anywhere, the feedback I hope you'll get is: "I'm glad I read S&A because they taught me a lot about value, they taught me how to manage risk, and they taught me how to generate income safely."
If we've done those things for you, please... take a minute and send us a note. We'd greatly appreciate it. We know real success as an investor takes a lot more than a hot stock tip. And while we do our best to give you those, too... we hope you'll find a lot more than just that in our work.
Regards,
Porter Stansberry