I'm starting... just starting... to become a bit more bullish. After months and months and months of warning people that the stock market wasn't safe... that Europe was bound to "blow up"... and that a serious currency crisis was looming... I am now beginning to see the first signs of
value
in the world's equity markets.
Don't get me wrong... I'm not giving you the "all clear" signal. I'm simply saying it's time to start building your "I'm gonna buy" list. And to help you do this, I'm going to do my best to help you learn the single most valuable concept in all of equity investing...
Warren Buffett calls this concept
economic goodwill.
He used this idea to break away from the Graham and Dodd-style investing he used at the beginning of his career. Making the switch allowed him to go from being a great investor to being the richest self-made man in the world. While I don't expect that will happen for any of us, I can guarantee your results will vastly improve and you'll make investment decisions with far greater confidence.
But... as always... I will issue a warning. And not my usual, "There's no such thing as teaching, only learning" disclaimer... This concept is very, very difficult – even for professional investors – to fully understand. I don't expect most of you will read this once and say, "I've got it!" But I truly believe that if I expose you to these ideas a few times each year... and if you keep reading and thinking... one day, the light will come on. And from that point, you'll be a much better investor.
Before we get to the hard stuff... let me explain why I'm now
starting
to look for stocks to buy again for the first time since March 2010. Here's what I wrote then...
If I'm right about the extent of the problems the world's sovereign debtors face, the world will experience a vastly slowing economy. Even though I expect the U.S. dollar to fall in value relative to hard commodities – like gold and oil – I think it will be difficult for the U.S. equity market to sustain its current high price. Stocks are trading at big multiples to earnings. High-quality names and low-quality names are just too expensive right now to be bought safely...
Stocks have gone nowhere but up for nearly a year. Isn't that a sign I must be wrong about all of these financial problems? Not at all. The huge run-up in equities we've seen over the last year is merely proof our central bank is still powerful. The stock market rebound that's lifted shares in the United States started the same week the Federal Reserve began its $2 trillion program of "quantitative easing" – which simply means printing up money and buying debts with it.
The Fed's program [Editor's note: this was the first round of quantitative easing] is scheduled to end this month. That's when we'll have our first real test of the true appetite for risk. I bet we see a big correction in the stock market at exactly the same time... If I'm right about my predictions, over the next five years, the price of silver is going to soar. And you should see a return to a more classic gold-to-silver ratio of around 1:16. With gold around $1,100 today, that would give you a silver price target of nearly $70. Today, silver is around $17.
As you know, we were basically right on the mark about all those things. Stocks did fall in mid-2010, which prompted the Federal Reserve to launch its second round of quantitative easing (QE2).
That caused stocks to become even more inflated. But they didn't come close to keeping pace with silver, which got as high as $50. QE2 saw stock markets around the world become wildly overvalued. By March 2011, the world's stock markets were as frothy as they had ever been – as overvalued in my eye as they were in the fall of 2007.
I say so because I keep a list (my blacklist) of the number of companies whose shares are worth more than $10 billion and trade at more than 10 times annual sales. While some circumstances could justify such rich stock prices (like asset-holding companies with little annual sales)... on the whole, stock prices trading at this level can't be sustained.
In the fall of 2007 – the last big peak in equity prices – 14 companies around the world qualified for my blacklist. By March 2011, there were 13. How could so many large companies trade at such wildly inflated prices in the face of our dire economic problems? The only explanation was manipulation of the money supply – a factor I knew wouldn't last. That's the main reason I've been so bearish for so long. Expensive equities and a looming debt/currency crisis is a lethal combination.
But the key indicators I follow are beginning to look more attractive. For example, only five companies populate the blacklist now. And my favorite timing indicator, the spread between high-yield and Treasury bonds, has suddenly and strikingly widened. The chart below shows you this interest-rate spread (in grey), expressed as the number of basis points between the yield on a high-yield debt index and 10-year Treasurys. Translated in plain English, just divide by 100 and you'll see the interest rate differential. Today, it's approaching 7%.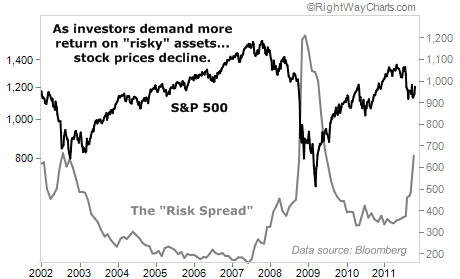 As you can see, the so-called "risk-spread" widens when people demand higher returns from assets they view as risky relative to U.S. Treasurys. When that happens (represented by the grey line rising), stocks (the black line) fall.
I believe this risk spread is going to continue to widen and stocks will continue to fall. But I don't expect it to widen by as much as it did in 2008. Why not? Because I don't believe the authorities will allow another major bank to actually fail, like they did with Lehman Brothers.
Therefore... we're approaching a top in the risk spread, which means we're approaching a bottom in stocks. The word approaching doesn't mean anything definitive, I realize... It's just a reminder that things look more attractive from the long side today than they did six months ago. And as a result, it's time for us to begin thinking seriously about what kind of stocks we should buy for the long haul over the next several weeks or months.
Some of Stansberry & Associates' analysts, namely Dan Ferris... completely pooh-pooh the idea that these indicators do any good at all. Dan says trying to time the markets is a fool's errand. I respectfully disagree.
I think the market clearly cycles between being broadly overvalued and broadly undervalued. I don't think it's all that difficult to judge. And I think knowing whether or not it's generally a good time to buy stocks or a bad time is important. I hope you'll consider why these indicators work and put them to good use.
So... when you go to cash in some of your bonds or spend some of your cash on stocks, what kind of stocks should you buy? Should you buy an index fund? Should you buy gold stocks? Should you buy tech stocks? Should you buy emerging markets? High beta? Low beta? Dividend payers? Companies that buy back shares?
I propose that you focus on companies with large amounts of what Buffett calls economic goodwill... and what I call capital efficiency. They are the same exact concepts, as you'll see.
Certain companies produce extremely high rates of return on the capital they hold. An example is Coca-Cola. Coke owns around $15 billion in property, plant, and equipment. It has $8 billion in long-term investments and more than $21 billion in cash and working capital. All together, that's about $45 billion in capital.
Against these assets, it can borrow roughly $42 billion – that's long-term debt, receivables, etc. This is capital it doesn't have to keep in the business because it has such a strong business and reputation, it can borrow at cheap rates. That's been true, by the way, irrespective of the nominal level of interest rates. Coke's real (that is, after tax and after inflation) cost of borrowing is extremely low. On a net basis, Coke runs its entire operation on only $3 billion in capital. And on this $3 billion in net capital... it produces annual cash flows in excess of $9.5 billion. That's a return of 216% on net tangible capital.
These kinds of returns shouldn't be possible in a rational, free market. Fortunately, people are not rational. They frequently pay absurdly high retail prices for products and services they love. Buffett explained how Coke can earn this high of a return on its capital in
his 1983 annual letter
, which I urge everyone to read. He used
See's Candy
as his example, because he had not yet bought Coke. In explaining
See's
ability to consistently earn a high return on its assets (25% annually, without any leverage), Buffett wrote...
... It was a combination of intangible assets, particularly a pervasive favorable reputation with consumers based upon countless pleasant experiences they have had with both product and personnel. Such a reputation creates a consumer franchise that allows the value of the product to the purchaser, rather than its production cost, to be the major determinant of selling price.
That's the whole magic. When you have a company that's able to maintain its prices and profit margins because of the value placed on the product by the purchaser rather than its production cost, you will have a business that can produce excess returns – returns that aren't explainable by rational economics. And those, my friend, are exactly the kind of companies you want to own.
Now... if it were that simple, we'd all be rich. Buying these kinds of stocks is actually extremely difficult. Other investors also know which companies are producing excess returns. The capitalized value of those future excess returns – the value of a company's economic goodwill – ends up in the share price.
Coke, for example, currently trades at more than four times its book value. Adjusting for the capitalized value of its economic goodwill that's currently in its share price (dividing 216% by four) still leaves you with an incredibly attractive annualized return of 54% on net tangible capital... But will these rates of return last?
The critical question for investors is: Will Coke continue to increase the value of its brands and its products, so that in the future, the capitalized value of its economic goodwill will grow even larger?
This kind of investing is the surest way to get rich in stocks over the long term. Let me show you why...
Buffett says these companies have large amounts of
economic goodwill
– which he defines as the ability to maintain unusually high returns on net tangible capital. I describe these companies as incredibly
capital efficient
. We are talking about the same qualities.
But... I think beyond a company's ability to make high returns, the more important fact is what happens to companies like this over time. They are able to return capital to investors at rapidly compounding rates because they simply do not require much tangible capital. Think about companies that don't require large, ongoing investments to grow production or maintain product quality. Then you will find the kind of stocks Buffett and I are looking for...
Think about it this way: Does Coke have to invest billions of dollars in new technology every year to maintain the quality of its beverages? Does Harley Davidson spend billions of dollars on R&D to innovate new and better motorcycles? Nope. Folks don't want a "new" Harley. They want the rattle and the sound of a classic Harley.
What about Hershey's? Do you think Hershey spends a fortune every year coming up with new brands and new kinds of chocolate bars? Nope. Companies with these special qualities are able to return more and more capital to shareholders every year, year after year, because it simply doesn't cost them much to grow.
Let me show you what I mean by making a tough comparison. Apple is, perhaps, the greatest tech-products company of all time. People, including me,
love
its products and will pay more for them. Apple holds roughly $48 billion in net tangible capital and earns annual cash flows of more than $18.5 billion. That's a 38.5% return on net tangible capital, which is very, very good – especially considering the fierce global competition Apple faces.
But I doubt Apple will ever be capital efficient. Why do Buffett and so many other long-term, successful investors refuse to buy technology stocks, even ones like Apple, that would seem to possess tremendous amounts of economic goodwill?
Apple is not capital efficient. The company bears a huge burden in the form of the market's demand for cutting-edge products on a never-ending basis. Last year, Apple spent more than $7 billion paying the world's top computer scientists to design its products. And even these numbers underestimate the costs. The number of shares outstanding at Apple has increased by 42.3% since 2000. Why, you might wonder, would a company as profitable and cash-rich as Apple issue so much stock? Because doing so hides the true cost of production. The increase in share count reveals the long-term effects of granting millions of employee stock options.
Likewise, Apple holds gigantic cash reserves ($41 billion) to ensure its continuity. People buying tech products need to have assurances that the company supporting the products will be around for several years. That's capital that can't be returned to shareholders. And that's why Apple has never paid a cash dividend or been a net buyer of its own shares. The company, which had a gross profit of $25 billion in 2010, returned none of this capital to its shareholders. The return to investors, if it ever occurs, remains uncertain.
On the other hand, Coke earned $22 billion in 2010 gross profit (before all operating expenses). It returned more than $5.2 billion to its shareholders (23.4%). On $2.4 billion in gross profit, Hershey returned capital totaling $350 million to investors in 2010 (almost 15%). These companies are able to return a large percentage of the gross sales to their investors because they are extraordinarily capital efficient.
And here's the best part. Hershey's cash and share-buyback payout to its investors last year was three times more than it was in 2000. Coke's cash and share-buyback payout to its investors last year was also three times more than it was in 2000. These companies don't require much in the way of additional capital as they grow. So they're able to return to their owners a higher and higher percentage of what they make as they get bigger.
It's this compounding effect that really explains Buffett's colossal wealth. He didn't merely buy stocks at good prices. He bought great businesses that were tremendously capital efficient. He held them long enough to enjoy the advantages of their compounding returns. These companies also will benefit tremendously from inflation. They will be able to raise their prices while not suffering as much from the rising prices of capital goods, which they spend little on.
I hope, with at least part of your savings, you'll begin to do the same. The time to make long-term purchases like these is coming. Finally... if you found today's lesson especially difficult to wade through... you are not alone. This is the most advanced class of investing. It's not easy... But if offers vast rewards.
And which advisory should you read to start building your "hot list" of capitally efficient companies with huge economic goodwill? Even though we disagree on the timing issue, I recommend Dan Ferris'
Extreme Value
. He has a portfolio of companies with rock-solid balance sheets that pay healthy, consistently growing dividends and trade at laughably cheap valuations. His World Dominators are exactly the types of businesses you want to own as we emerge from this mess. To learn more about
Extreme Value
,
click here
...
Regards,
Porter Stansberry