For much of the past few years, I've been issuing a warning you'll never see in the mainstream press... and most likely never hear it from your broker.
Folks who have heeded my warning have saved a lot of money this year... and should continue to do so.
The warning is that contrary to popular belief, there's little difference in owning stocks or commodities these days.
If you make the popular move of buying a basket of commodities with the belief that you're diversifying your portfolio, you're badly mistaken. You're not diversifying your risk... You're actually "doubling down" on a risky bet. You're betting all will be well with the world and its intertwined economies.
You can see the extraordinary "correlation" between stocks and commodities in the chart below. It plots the performance of the benchmark CRB commodity index (black line) versus the performance of the benchmark S&P 500 index (blue line) over the past year.
The two indexes move in the same up and down fashion, at the same rate. And they've both plummeted since May: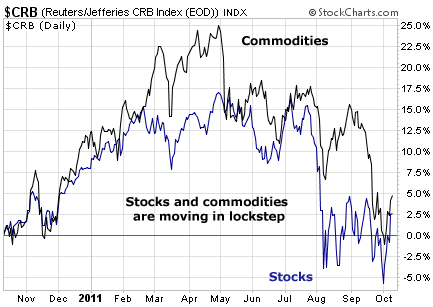 "Interesting," some readers say. "So what should I do about it?"
When structuring your own portfolio, keep correlation in mind... And consider "lightening up" on stocks and commodities.
You could start by just increasing your cash position. I'm not talking about sitting in U.S. dollars for a decade. But in the short term, cash is your "dry powder." It's money you have on hand to buy bargains when they appear. I often call cash "big returns in waiting."
The next thing you can consider is upping your allocation to gold and silver. Granted, gold and silver aren't the screaming deals they were in 2003, but they still have enormous potential to rise, should the U.S. or European sovereign debt situations blow up.
Finally, consider taking a small portion of your portfolio and putting it into a few "short" positions. Short selling is a strategy that allows you to profit when stocks fall. (I read my colleague Porter Stansberry's advisory for the best short-selling ideas. You can learn why
here
.)
If you've got most of your money in stocks right now with a commodity "hedge," all you've really got is one giant bet on the same thing. For a safer approach, move money to some or all of the alternatives above.
I can't say exactly what your allocation should be. Everyone has different financial needs and goals. And market conditions change constantly.
But in today's age of massive government spending, borrowing, bailouts, and potential blowups, risk-limiting ideas like these have never been more important.
Regards,
Brian Hunt