Doug Kass has a great track record for predicting major market turns.
Kass is president and founder of hedge fund Seabreeze Partners. He is a CNBC contributor and is often quoted in prominent financial publications such as The Wall Street Journal and New York Times.
Just last week, he made a call that might shock you. But I think he's right...
In September 2007, Kass called for a huge pullback in stocks. At the time, the S&P 500 index traded near its all-time high.
He said, "The massive creation and accumulation of debt – which contributed to the domestic economic gains since 2000 – will come to an end. The credit unwind in the upcoming years can be expected to have a profoundly negative impact in the current down cycle of economic activity – possibly for years to come."
By March 2009, the S&P 500 had collapsed 57%. Instead of taking a victory lap, Kass reversed course. "Stocks are at a generational low," he said. It was one of the best buying opportunities in decades.
Since his call on March 9, 2009, the S&P 500 is up more than 70%. (That includes the recent 13% pullback in the major index since July.)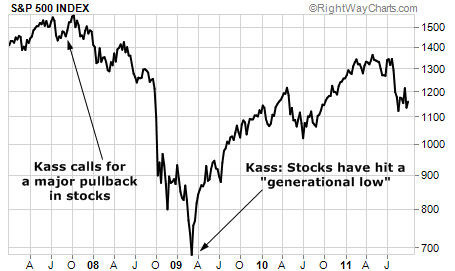 About a week ago, Kass appeared on CNBC's Fast Money. He said, "Stocks are now more undervalued than at the generational bottom back in 2009."
I agree.
The S&P 500 is trading at just 12 times earnings. According to research firm Thomson Reuters, those earnings are expected to grow in the double digits at least over the next two years. These estimates include the latest revisions lower by institutional analysts.
Even so, I'm not saying stocks are a screaming buy right now. For example, the S&P 500 was cheap in November 2008. But it fell another 20% from November to March – before surging higher over the next two years.
As I explained in August,
I am looking for three trends
before jumping back into stocks with both feet. They include insider buying, corporate buybacks, and lower volatility.
So far, we have two out of three. As of mid-August, insiders have bought back shares at the highest rate since March 2009. According to Traders Magazine Online, corporations announced more buybacks in August than any other point since February 2008.
But volatility is still sky-high. That explains the massive whipsaws taking place in the major indexes almost on a daily basis. Stocks usually perform best when the Volatility Index (the "VIX") is below 25. It's near 40 today.
There is no doubt stocks are cheap. But they could still get cheaper. I suggest waiting until the VIX pulls back to the mid-20 level before going "all in" on stocks.
Good investing,
Frank Curzio
Further Reading:
DailyWealth editor Steve Sjuggerud looks to buy stocks that are cheap, hated, and in an uptrend. Recently, he found two sectors that are cheap and hated, but he's still waiting for the uptrend. Read more to prepare for potentially huge profits ahead...
"We will miss the first part of a new bull market in [this sector], and that's fine. We're doing our best to buy when it's cheap and when the worst has passed."
"Shares are so cheap... and Bernanke is making it so easy for them to succeed... that you could make hundreds of percent returns here... once the time is right."