My colleague Frank Curzio and I traveled to China last year. At the end of our visit, we stopped in Macau – the only place in the country where gambling is legal. It was a frenzy. Gamblers packed the massive casinos there. And building had begun on several more.
Since our visit, the two casino stocks we mentioned – Las Vegas Sands and Wynn Resorts – are up 47% and 62%, respectively. That's a massive run up. But now, things are changing in China...
China's hypergrowth economy is weakening.
FedEx recently reported a sharp slowdown in goods being shipped out of Asia. For the month of August, air cargo tonnage out of Hong Kong fell more than 9% versus a year ago. That kind of sharp dropoff could be the first sign of trouble for China's economy.
And China's stock market is already in decline. Hong Kong's benchmark Hang Seng index is down more than 25% since mid-April. The U.S.-based S&P 500 is only down about 11% during that time.
China's slowdown is killing some of the best long-term uptrends in the market. For years, China has been "vacuuming up" nearly half the world's annual supply of iron ore, steel, copper, coal, and aluminum.
As that demand has dropped, the stocks of giant global commodity producers like BHP Billiton, Rio Tinto, and Freeport McMoRan have plummeted 25% or more in the space of a few months.
Here's the thing: Gambling revenue in Macau topped the $3 billion mark for the month of August. That's a 57% increase compared to August 2010, when Frank and I were there.
The latest numbers from analysts at Deutsche Bank suggest there's been no slowdown in September. Gross gambling revenues remain around $92 million per day.
Macau can't maintain a 50% growth rate in gambling revenue forever. For now, though, consumer demand for gambling establishments is outstripping supply. I saw first-hand how full these casinos were on a weekday night.
In short, gambling is one of the few "survivor" trends left in China.
The best "pure play" on gambling growth in China is Las Vegas Sands. This U.S.-based company makes more than 80% of its revenue from casinos in Macau and Singapore. As you can see from the chart below, shares have avoided much of the weakness that's hurt other China-dependent stocks.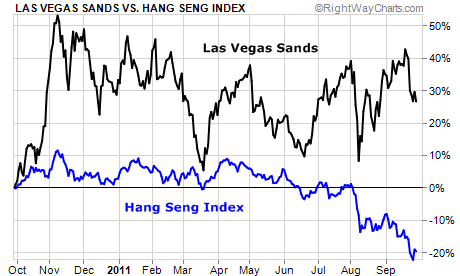 Trading around 23 times 2011 earnings, Las Vegas Sands is far from cheap. However, the company is still on track to grow earnings by nearly 100% in 2011. Over the next two years, earnings should average around 25% annual growth.
Investors should note that the gambling industry isn't immune to a major China slowdown. No uptrend can withstand a major bust. But over the long term, casinos will rake in huge amounts money from Asian gamblers.
That's why, if there is a good "washout" in Asian stocks ahead, it will be time to consider buying stocks like Las Vegas Sands.
Good investing,
Larsen