Hedge-fund legend and famed short-seller Jim Chanos recently offered his latest bearish take on the coming chaos he sees ahead for China.
Chanos, the brilliant "forensic accountant" who nailed the Enron and WorldCom frauds, believes the country is headed for a huge real estate bust... one that will send the prices of Chinese banks, real estate developers, and commodity producers much lower. Chanos told Bloomberg...
The property market is hitting the wall right now and things are decelerating. The CEO of Komatsu said last week that he is having trouble getting paid for his excavator sales in China. Developers are being squeezed. They're turning to the black market for lending, this shadow banking system that is growing by leaps and bounds like everything in China.
Regulators over there are really trying to get their hands around the problem. In the meantime, local governments have every incentive to just keep the game going. So they will continue with these projects, continuing to borrow as the central government tries to rein it in.
In 2008, Americans learned the hard way what happens when a mania in rampant lending, real estate speculation, and shady banking practices hits a wall. When Chanos is proven right on China, it's going to be ugly.
We're starting to see market confirmation of Chanos' thesis. Mega base-metal miners Teck Cominco and Freeport McMoRan struck major 2011 lows this week. Chanos has also pegged Brazilian iron ore producer Vale as vulnerable to a China bust. More than one-third of the company's production goes to China.
Vale enjoyed a huge rally off its 2009 lows. Shares jumped from less than $10 to $36 early this year. As you can see from the chart below, if Chanos' expected China bust arrives, this stock could easily lose 25%-50% on the way back down.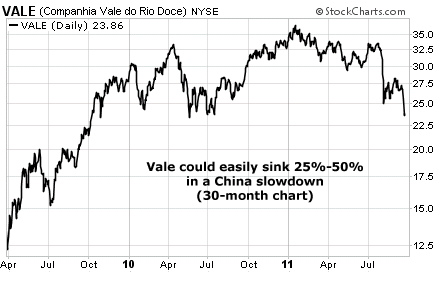 Once again, we remind you that China isn't our biggest near-term worry. That mantle remains with the slow-motion financial train wreck taking place in Europe.
The latest news on this disaster comes in the form of the International Monetary Fund's estimate that European banks have more than $400 billion in credit risk. Again, from Bloomberg...
The European debt crisis has generated as much as 300 billion euros ($410 billion) in credit risk for European banks, the International Monetary Fund said, calling for capital injections to reassure investors and support lending.
Political squabbling in Europe over ways to fight contagion and delays in implementing agreed measures are raising concerns about the risk of defaults by governments, the IMF said. Banks in turn face "funding challenges" because of investor concern about their potential losses from government bonds they hold, with some relying heavily on the European Central Bank for liquidity, it said.
Whatever the politicians do or say, you only need to know that Europe is in a "no way out" situation. The only possible outcome is more money-printing to "paper over" the giant debts countries like Italy and Greece have piled up over the years.
Porter Stansberry has provided risk-averse investors with a simple way to protect themselves and prosper during this type of currency debasement. It's a strategy that has returned more than 30% in the past 18 months. Make sure to
read this DailyWealth
for more on the "50/50 portfolio."
Lastly, we leave you with one of the ugliest charts in all of finance... and a brief "we told you so" that will enflame thousands.
The chart below shows trading in solar giant First Solar over the past year. Regular readers know Porter's take on the solar industry – it's a hopeless money-loser thanks to the Second Law of Thermodynamics. Porter's commentary on the solar industry regularly generates
the angriest feedback we receive
.
While Porter has noted for years that almost all solar stocks are disasters waiting to happen, he singled out First Solar as his short-selling candidate. The chart below speaks a thousand words...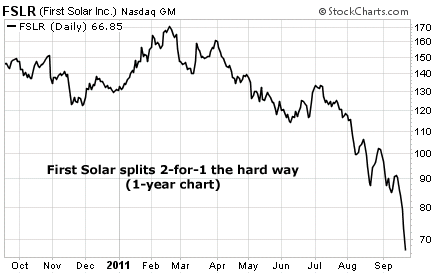 We've written about Porter's
criteria for selling stocks short
before. He looks for companies that can't afford to pay their debt (
GM
,
Fannie
, and
Freddie
), companies that are obsolete (like Borders), and companies that are involved in fraud (WorldCom and Enron).
In his September issue of
Stansberry's Investment Advisory
, out two weeks ago, his subscribers are already up 13% and 7% on his two new short sell recommendations. One of the companies can't possibly pay off its debt. The other qualifies as obsolete. His six open
short sell recommendations
are all showing a profit, and are up an average of 26%. Should the market continue to struggle, these trades will explode in value. To access Porter's favorite "victims,"
click here
.
Regards,
Brian Hunt