Daniel Loeb is at it again.
Loeb is the manager of the $8 billion hedge fund Third Point, one of the world's best-performing hedge funds over the last 12 months. Since the start of Third Point in 1996, investors are up more than 800%.
Besides his stellar results, Loeb is well-known for writing scathing public letters criticizing the executives in charge of the companies he owns. Recently, he's turned his sights on Yahoo.
Yahoo is one of the largest search engines in the world. Over the past two years, the company has significantly underperformed the largest companies in the tech-heavy Nasdaq.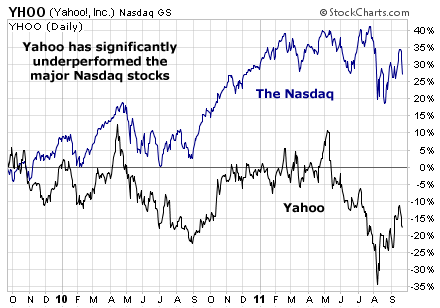 Loeb believes it's time for a change. He wrote a letter calling the current management team "clowns." He also said, "Yahoo has the same crappy interface and the same crappy logo it had for years..."
Loeb is trying to get new members elected to the board of directors. He believes a new management team will provide more value to shareholders.
This song sounds familiar.
Loeb is one of many prominent hedge-fund managers to call out Yahoo's management team. Billionaire Carl Icahn, legendary Texas oil and gas executive T. Boone Pickens, and hedge-fund manager David Einhorn also bought shares of the company over the past 24 months.
Each of these managers sold their positions for a big loss.
Maybe Loeb can provide more value to shareholders by shaking up management. But I don't think it matters much...
At $15 share, Yahoo is trading at 15 times next year's earnings. That's expensive for a large-cap technology company – especially considering that World Dominators Intel, Microsoft, and Cisco are all trading below nine times earnings.
To make matters worse, consensus estimates figure Yahoo will grow its earnings by only about 10% annually over the next three years.
If investors are looking for a large-cap tech company with value and growth potential, Google looks like the much better play.
Google is the largest search engine provider in the world. The company trades for only 13 times earnings. These earnings are expected to grow north of 20% annually over the next three years.
Plus, Google just came off one of its best quarters as a public company. Revenue topped $9 billion – a new record. Revenue and earnings will likely hit new record highs when the company reports its third quarter results in October.
Instead of buying Yahoo and hoping for a "miracle" takeover, I'd rather buy the World Dominator in Internet search. Not only is Google drama-free, but it's cheaper than Yahoo... And it's growing a lot faster.
Good investing,
Frank Curzio