Running an airline has never been a good business.
There are high labor costs, high fuel costs, large capitalization expenses, tons of regulations, and intense competition. If you add up all the cumulative earnings of all the airline companies ever, you come up with a negative number.
Sure, there have been a few years when the airlines have turned a profit. But those years pale in comparison to the decades of red-ink-stained income statements.
So... could it really be different for airlines this time?
Well, airlines have done a bang-up job getting expenses under control and squeezing every last penny out of the typical traveler. Think about it... Ticket prices are high. We pay an additional fee to sit in an exit row or near the front of the plane for extra leg room. We buy the airline food. We rent pillows and blankets.
Airlines have closed unpopular routes. They routinely cancel flights and cram those passengers into unfilled seats on later flights. They charge exorbitant fees for anyone who dares to change their own flights.
For the typical passenger, airline travel is miserable. But for the airline industry, misery equals profit. We put up with the high fees, the no frills, and the runaround we get at the airport because there is no faster way to get from here to there. We have to fly. We are captive customers.
The airlines have finally figured that out. All the cutbacks in services and all the extra fees flow right through to the bottom line.
Yet profits have still been inconsistent – at best – because there's one major cost the airlines can't directly control... oil.
Fuel is the No. 1 expense of the airline industry. At $90 per barrel for oil, it doesn't matter how many expenses get cut back or how much extra revenue gets raised for incidental items. Airlines aren't going to make money. The price of fuel is just too expensive.
But as the price of oil comes down, the new, lean, mean airline industry should become a profit-producing machine. Oil is already down sharply from its late-April high above $110 per barrel. And based on the following chart, it could easily fall another 20% over the next few months...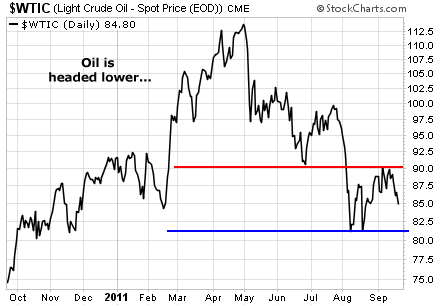 Oil bumped up against resistance last week at about $90 per barrel and turned back lower. Now, the price is headed down toward support at $80. If that level doesn't hold, it could be a quick trip down to the next support line at $70.
Lower oil prices are good all around for most industries. But there's no industry more poised to benefit from a drop in the price of oil than airlines. If and when oil drops below $80 per barrel, airline profits should soar.
As a general rule, airlines have almost always been bad investments. But if the price of oil keeps falling, the stocks may make for a good trade.
Best regards and good trading,
Jeff Clark