Steve Cohen is one of the best stock-pickers on the planet.
Cohen founded SAC Capital in 1992. Today, it's one of the largest hedge funds in the world, with over $14 billion in assets under management.
Since inception, Cohen has averaged more than 30% returns annually for his clients. These returns put him in the same class as investor legends Warren Buffett and George Soros. Based on his exceptional track record, I always pay close attention to what stocks Cohen is buying. And right now, Cohen is making some interesting energy bets...
In recent interviews, Cohen has expressed his bullishness on natural gas stocks. That's probably why he holds stakes in Anadarko Petroleum (producer), Plains Exploration (producer), and Weatherford (oil & gas services). These large-cap companies are great plays on
the huge production boom
taking place in the clean fuel.
He also just picked up a new position: On September 9, Cohen disclosed a 5.9% stake in Heckmann (HEK). The water services company has a market-cap of only $650 million. (That's a small company, given the size of SAC Capital.)
Heckmann is one of the few pure-play water solution companies in the energy sector. In short, the company provides infrastructure like pipelines and treatment centers to produce and recycle water for companies that use hydraulic fracturing and horizontal drilling.
Water is an essential component in hydraulic fracturing. Under high pressure, it's used to break up shale rock formations underground and let the oil and gas out. According to natural gas producing giant Chesapeake Energy, one horizontal deep-shale well requires an average of 5 million gallons of water. (That's equivalent to 80 billion bottles of drinking water.)
Chesapeake said it expects over 25,000 wells to be drilled in
the Utica shale
alone over the next couple decades.
Getting this much water to drilling sites can be difficult. Also, companies must have a way to dispose or recycle the water for future drilling once the well is completed. That's where Heckmann comes in.
Based on the numbers mentioned above, it's a no-brainer that water services companies like Heckmann will see huge demand for the foreseeable future. Despite the industry positives, the one drawback to buying the company right now is its price. However, Cohen may see value in the stock following the recent pullback...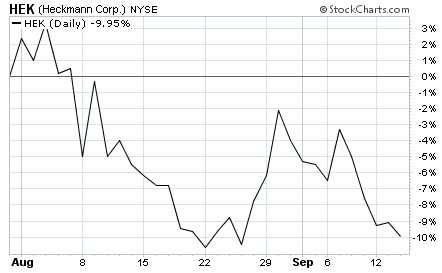 Even after its recent 10% drop, Heckmann is trading at an expensive six times sales and 26 times 2012 earnings. That's a high price to pay for growth.
My advice is to put this stock on your watch list. In today's market, we're seeing 10% monthly moves in small caps. You may be able to buy Heckmann at a much cheaper price.
Good investing,
Frank Curzio