We just got confirmation...
Fifteen years may not seem like a big deal. After all, some estimates indicate the U.S. has over 60 years' worth of natural gas waiting to be extracted. The problem is if demand rises.
As I explained in my last essay, I expect it will... and a new deal confirms it.
You probably haven't seen details on this deal in the paper... or seen it on the news. But it's the start of a new era in energy use. And it's going to mean big profits for a few small companies...
Westport is the largest manufacturer of natural gas engines. It has partnerships with some of the largest engine makers in the world, including Cummins (U.S.), Weichai (China), Hyundai (Korea), and Volvo (Europe).
Westport is also one of four companies in a special report I gave my Penny Stock Specialist readers: "How to Make a Fortune on the Shale Gas Megatrend." Subscribers are up 80% since my recommendation.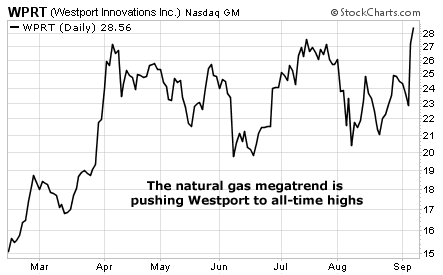 Now, Shell is working with Westport to market liquefied natural gas (LNG) vehicles in North America.
Under the terms of the agreement, both companies plan to develop industry standards for LNG as a new transportation fuel. They will provide proposals to their customers on how they can save money through LNG technologies.
Shell is the first major oil company to back LNG as a transportation fuel. Over the past few months, natural gas giants Encana and Chesapeake have made big investments in building out the LNG vehicle infrastructure.
Once the infrastructure is in place, millions of heavy-duty trucks in the U.S. will switch their engines over from diesel to natural gas. In fact, UPS, Ryder, and Waste Management have made the switch to natural gas engines for some of their fleets.
LNG as a transportation fuel would significantly knock years – if not decades – off natural gas supply estimates. Westport is just one company that will be a huge beneficiary.
Next week, I will provide a few more small-cap ideas that will make outsized profits on the natural gas megatrend.
Good investing,
Frank Curzio