The sky is falling. America, as we know it, is crashing. Thoughts of Armageddon are now mainstream. The world is ending.
So let's buy stocks.
Huh?
Of course it sounds crazy. Who in their right mind buys stocks in this environment? Actually, if you want to make money, you have to buy stocks here.
Take a look at this chart of the Volatility Index (the "VIX")...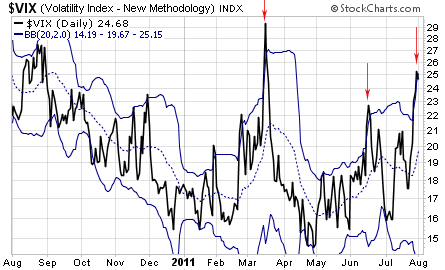 The VIX is the stock market's fear gauge. A falling VIX indicates investor complacency. A rising VIX shows fear.
As you can see from the recent sharp spike in the chart, investors are scared. They're so scared, in fact, the Volatility Index spiked above its upper
Bollinger Band
(the blue lines on the chart) last week.
Bollinger Bands measure volatility. They indicate the most probable trading range for a stock or index. Whenever a chart trades outside its Bollinger Bands, it indicates an extreme move – a move vulnerable to a sudden and sharp reversal.
Last week, the VIX closed above its upper Bollinger Band – indicating an extreme move in investor fear. Of course, we all know the best time to buy stocks is when investors are scared – when they're so frightened of potential losses, they're willing to dump positions at "fire sale" prices.
We've seen this movie plenty of times before – twice already this year, in fact – and the ending doesn't change.
Take another look at the VIX chart. Notice the spikes in fear that occurred in mid-March and again in mid-June. Each time, the VIX spiked above its upper Bollinger Band. When it fell back inside the Band, the VIX triggered a "buy signal" for the broad stock market. In both cases, the S&P 500 rallied about 75 points in just a couple weeks.
The VIX closed above its upper Bollinger Band last week. It fell back inside the Bands yesterday. While there's no guarantee history will repeat and we'll see another strong, short-term rally, I like our odds.
Today is the best time to buy stocks since March. So I'm buying stocks here... You should consider doing the same.
Best regards and good trading,
Jeff Clark