The U.S. is at a standstill regarding its debt limit... Europe is crashing... the world is worried China's a bubble... And on top of all these economic disasters, it seems the world has lost faith in paper money...
Gold hit a record $1,607.70 an ounce last Monday. The dollar is just about flat over the last few weeks, compared to a 7% gain in gold...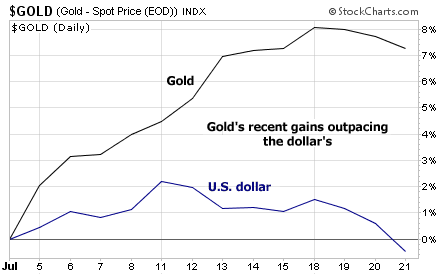 The difference is even more severe over the past year...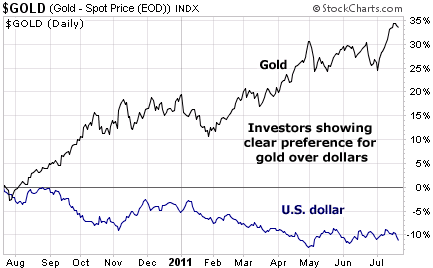 Gold seems dear right now – especially considering its recent two-week run. It's soaring in the face of the U.S. and European crises. Once the government announces solutions (albeit short-term ones), the metal will correct.
Silver, on the other hand, does not seem overextended. Although "the other metal" continues its steady rise – crossing to more than $40 an ounce on Thursday – it's still nowhere near its record high of $50 an ounce, which it hit in April.
An interesting article in Reuters this week describes the "gold fever" overtaking India and China (the world's two largest gold consumers). The giant Asian nations expect gold demand to increase through the year...
"Record-high prices won't scare away investors," said Shi Heqing, an analyst at Antaike, a state-backed metals consultancy based in Beijing. "Investors are likely to chase the rally and continue to buy gold because paper money feels increasingly worthless and they are worried about inflation."
Shi believes China's gold demand could increase 20% to around 700 tonnes this year from 570 tonnes last year. In other words, a couple billion people are starting to worry – rightfully so – about their paper savings. And they're starting to buy gold for protection. This could be a huge trend that will drive gold even higher. And this buying doesn't even include central banks. You can read the
full article here
.
Apple's quarterly earnings more than doubled to $7.31 billion, up from $3.25 billion last year. Revenue jumped 82% to $28.57 billion. And gross margins improved to 41.7% from 39.1% a year ago. Plus, the company booked its strongest iPhone and iPad sales in history. Shares increased more than 3% to $390.
Apple sold 20.3 million iPhones, compared with expectations for 17 million-18 million. (The company added 42 new carriers and 15 new countries during the quarter.) Last year, Apple sold 8.4 million iPhones. And it sold 9.25 million iPads, up from 3.3 million a year ago – or "every iPad we could make," according to finance chief Peter Oppenheimer.
The highest growth in sales came from Asia Pacific – the biggest portion being China. Revenues there more than doubled to $6.3 billion. And Chief Operating Officer Tim Cook said revenues from Greater China (including Hong Kong and Taiwan) increased more than six times to around $3.8 billion... "I firmly believe that we are just scratching the surface," Cook said. "There is an incredible opportunity for Apple there."
Following the blowout earnings announcement, the financial talking heads are calling for Apple shares to hit $500 or higher. Nearly everyone is bullish on the company...
... Except for one highly respected fund manager – the legendary Jim Rogers. The billionaire commodity bull believes Apple is expensive. And he's shorting the technology sector right now.
How do we know? Jim recently sat down for an interview on the S&A Investor Podcast – our weekly Internet radio show hosted by our own Frank Curzio. It's one of the most widely listened-to financial podcasts on iTunes. Frank interviews some of the top analysts, hedge-fund managers, and economists on Wall Street every Wednesday.
This week, Jim explains why he is long the dollar (yes, he's long the dollar) and why he recently added to his gold position despite the record high prices. He calls for the resignation of Fed Chairman Ben Bernanke and Treasury secretary Tim Geithner – and also talks about investing in one of the most unstable countries in the world. Jim's interviews are always entertaining... You certainly don't want to miss this one. You can listen to this interview – for free – by
clicking here
.
Signs of a top... A recent
USA Today
story titled "
Down on the farm, investors see big potential
" profiles a 33-year-old software entrepreneur who is buying farmland – paying 25% more than the next-highest bidder at one auction. When speculators and know-nothings are beating out knowledgeable bidders by 25% at auctions... you're nearing a top.
And as in most bubbles, the buyer – in this case Braden Janowski – thinks he's smart because asset prices are rising. The article concludes with this quote from Janowski: "I'm probably on the fringe of being a nutjob... But as each month goes by, I become less nutty."
Another sign of a top... Another big tech IPO... Shares of real-estate website Zillow started trading today under the ticker "Z." Shares debuted at $20, up from the $12-$16 range planned last week. They immediately tripled to $60 and have since retreated to $35 – a 75% increase from the initial public offering (IPO) price. Memories of 1999 abound...
And here's a bonus "IPO we'd avoid"... Shares of headphone company Skullcandy IPO'd today. The company raised nearly $190 million in the debut. The company priced the offering at $20, above an estimated range of $17-$19 per share. And it increased the size of the offering from 8.5 million to 9.4 million shares.
If you missed out on Jeff Clark's recent string of huge winners (120% shorting China, 80% in one day on Gold Fields, 95% on GDX, and 75% on Kinross to name a few), you have another chance today...
Jeff sent an update to S&A Short Report readers with a trade he believes will return 300%. The stock in question has been getting hammered. It's currently trading nearly 20% below its 200-day moving average. That means the stock is oversold. In fact, the last time the stock traded this low, in September 2010, it rebounded 38% in just six weeks.
Markets tend to revert to the mean... And that's what Jeff is betting on with his latest
S&A Short Report
trade. The recommended options are currently hovering around Jeff's buy-up-to price. To receive the
S&A Short Report
and learn how to make 300% on this single trade,
click here
...
Good investing,
S&A Research