The stock market is teetering on the edge of the abyss.
If the S&P 500 can't hold the 1,300 level, 1,250 could be in the cards. If the index can climb back in off the ledge and somehow manage to rally from here, we could be looking at new yearly highs by August.
There's a lot at risk. And there's a lot of potential reward. So who can you trust to steer you in the right direction?
Goldman Sachs (GS).
That's right. The stock everyone loves to hate holds the key to the summer-time action of the stock market.
By the time you read this, GS will have already reported earnings for the quarter. More important than what the company says is how the market reacts to the announcement. As Goldman Sachs stock goes... so goes the market.
Goldman is the stock market's "canary in the coal mine." When it performs well, the stock market performs well. When it's weak, so is the rest of the market.
As you can tell from the following chart, Goldman Sachs has been an anchor around the neck of the market since April...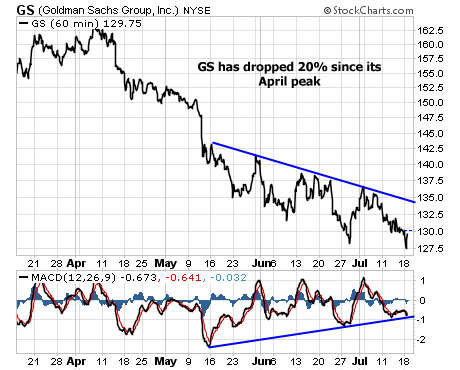 The broad stock market cannot rally without leadership from the financial sector. If the leading financial stock in the country is under pressure, the entire stock market will have trouble gaining ground. GS peaked in April and was a leading indicator for the recent correction in the stock market.
However, this GS chart looks like it's trying to form a bottom. The stock is falling and making new yearly lows, but the MACD momentum indicator is rising. This positive divergence tells us the momentum behind the decline is weakening. It won't take much to pop the stock higher and reverse the downtrend.
It all depends on how the market reacts to the earnings announcement today. If GS shares rally and close higher on the day, the odds favor a summer rally for the broad stock market.
On the other hand, if GS closes lower today, the S&P may need to retest its spring-time lows before finding a bottom.
Either way, there's a lot riding on the way GS trades today. Smart traders will pay attention to it.
Best regards and good trading,
Jeff Clark