We track the junior resource market with the Toronto Venture Index. The Venture is the "Dow Jones Industrials of junior resource stocks." It contains nearly 1,500 small mining and oil companies.
The Venture fell more than 22% from the high in March 2011 to the recent bottom. A nearly identical decline occurred in 2010. Shares fell 20% from April to July 2010... Then they ripped off an 80% gain from July 2010 to March 2011.
I believe we're going to see a similar trend this year.
The old saw, "sell in May and go away" is especially prophetic among the junior miners. We see stocks sag almost every summer. This year was no exception.
You see, mining companies working up north (especially in the mountains of British Columbia and Yukon – the hottest areas for new gold discoveries) have a limited "field season."
They do most of their drilling between June and October. And they publish most of the results between July and November. Sometimes, companies save good news until the giant Prospectors & Developers Association of Canada (PDAC) mining conference, which doesn't happen until March.
The point is, investors don't get much news from their small mining companies between March and June... Without news, they get bored. They begin to see other stocks moving higher, while the juniors remain stagnant. They take profits or simply move to greener pastures.
That's what drives the spring and early-summer slump in junior resource stocks. You can see it at work over the last two years here...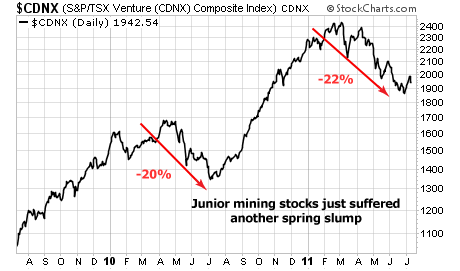 Now, however, the news season is upon us. We've already seen great drill results from companies like ATAC Resources and Almaden Minerals. During last year's junior resource rally, Almaden jumped more than 330%, supported by a new gold discovery in Mexico.
More results like that should launch the best companies hundreds of percent higher... and pull the whole sector out of its recent slump.
I have my eye on the Venture's recent bottom around 1,900. If that level fails to hold in the next several weeks, it's a sign we need to stay cautious toward the sector.
But if it holds this level for several weeks – or even puts it way back in the rearview mirror by trading above 2,050 – it will be a bullish sign for small resource stocks.
Good investing,
Matt Badiali