I warned you...
On May 6
, I told you BlackBerry maker Research in Motion (RIMM) had lowered revenue, gross-margin, and earnings forecasts. The stock had already fallen from $57 to $47 on the news. But analysts were still optimistic.
I wasn't. Based on few new products coming to market and intense competition from Google and Apple, I said the company wouldn't come close to meeting its revised earnings estimate. I urged you to stay clear.
Good thing, too... On June 16, RIMM dropped another bomb on its investors. The company said it now expects to earn $5.60 a share for 2012. That's 25% less than the $7.50 earnings estimate management projected just two months ago.
Shares have collapsed 40% since I last wrote about the company.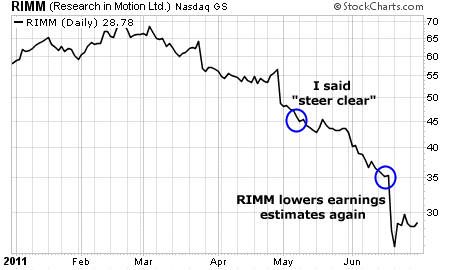 So is RIMM a buy at these depressed levels?
I asked this same question in May. Back then, there was still plenty of optimism in the company. After all, more than 20 institutional analysts had a "buy" rating on the stock. But the numbers looked too high.
Today, however, RIMM looks cheap. The company expects to earn $5.60 a share in 2012. Based on this estimate, shares are trading at just five times earnings. But let's be conservative and take a worst-case scenario...
Research firm Deutsche Bank is one of 45 institutional analysts covering RIMM. It has a sell rating on the stock and is estimating RIMM will earn $4.10 a share in 2012. That's the lowest earnings target on the Street.
Using this bearish estimate, shares are trading at 6.8 times next year's earnings.
That's more than a 30% discount
to "
crazy cheap
" tech giants Intel, Microsoft, and Cisco. And again, we are using a conservative earnings number.
RIMM also announced a huge share buyback. The company intends on buying back 5% of its outstanding shares. That could help boost earnings per share in the short-term. This buyback program will begin on July 10.
Sure, RIMM has a tough road ahead. Recent product delays mean the company will miss out on the back-to-school promotional period. That could result in weak earnings for at least another quarter or two. It also means the company might temporarily lose market share to competitors.
However, investors are now so bearish on the stock, they're overlooking several positives...
For example, 43% of RIMM's sales come from countries outside of Canada, the U.S., and the U.K. These sales have grown 88% year-over-year. That is a huge gain for a company trading at less than seven times earnings. Its Playbook tablet was a huge seller. Shipments for the quarter totaled 500,000. That was 100,000 more than consensus estimates.
RIMM is expected to launch its OMX operating system next year. OMX is said to uses less memory, is easy to develop apps on, and is much faster than Linux or Windows, according to industry professionals. If management can bring OMX to market on schedule, shares will likely see a huge boost.
Also, expectations are at extreme low levels. Most of the buy ratings from analysts have been cut. Earnings estimates have been slashed. I just finished reading through more than 15 of these analysts' reports. I couldn't find one positive comment on the company.
When analysts are in agreement, the opposite tends to happen. In other words, now that most of these analysts are bearish, the contrarian in me says it may be time to buy.
Looking at the fundamentals and current sentiment, I believe RIMM offers a favorable risk-reward setup. I suggest scaling into the stock under $28 a share. Any positive announcement could result in a 15%-plus move to the upside.
Good investing,
Frank Curzio