It was nice while it lasted... But the week-long rally in stocks is over. And the S&P 500 appears poised to go back down and at least test this month's lows.
Stocks started to rally last week, as we expected they might. The market was oversold. Bearish sentiment was high. And the odds favored a bounce.
But the bounce ended yesterday, after Ben Bernanke held his second-ever post-Federal Open Market Committee meeting news conference. No, his bottom lip didn't quiver, and his forehead didn't perspire. And no, Mr. Bernanke didn't say anything new or shocking that could have roiled the market.
Indeed, it appears yesterday's late-afternoon selloff didn't have so much to do with Mr. Bernanke's performance. Rather, it has more to do with this...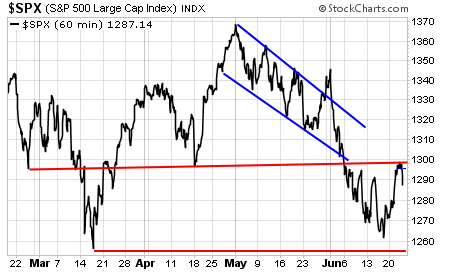 This is an updated version of
the chart I showed you last week
. It's a 60-minute chart of the benchmark S&P 500 index. As you can see, stocks have enjoyed a solid rally over the past week. But they ran smack-dab into resistance at 1,296 yesterday morning.
Buyers couldn't overcome the resistance. By the afternoon, sellers took control, and stocks ended the day at the lows.
Now, 1,296 is a clear line in the sand for stock traders. Any decisive move above that level will likely lead to an intermediate-term rally that could challenge 1,340 or so. After yesterday's action, however, the odds favor a few more days of weakness.
In fact, a retest of last week's lows near 1,260 seems the most probable event. Stocks are in a new short-term trading range between 1,296 on the upside and about 1,260 on the downside. Since the market failed to take out 1,296 yesterday, the path of least resistance is lower.
As traders, we need to adjust our strategies based on how the market behaves as it approaches short-term support and resistance levels. It made sense to buy last week as the S&P 500 flirted with support at 1,260. It makes sense to be short stocks now as the market turned lower after hitting resistance yesterday.
The next time to buy will be when the S&P 500 either retests support near 1,260 or decisively pops above 1,296... whichever comes first.
Best regards and good trading,
Jeff Clark